Capers - Wild, Raw, Handpicked in Salina (250g)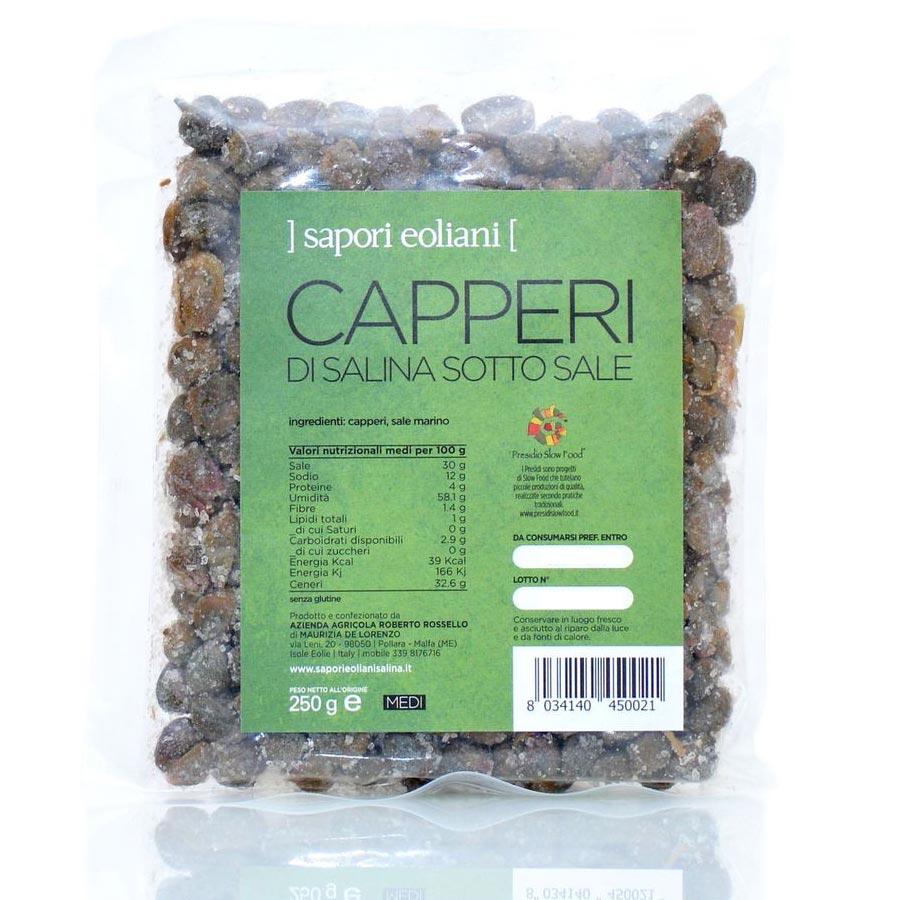 Capers - Wild, Raw, Handpicked in Salina (250g)
Raw, Wild, naturally organic capers handpicked on the beautiful Italian island of Salina (off the coast of Siciliy in the Aeolian island group), preserved with nothing except the revered real Sicilian sea salt. Whereas almost all other capers are packed in cheap brine water our nutrient-dense capers are preserved the traditional way, through a artisanal process that involves them being packed into the sea salt.

Ingredients: Salina Capers, Sicilian Sea Salt.

Capers are the world's highest source of the longevity promoting and mood enhancing phytonutrient Quercetin.

Directions: Simply soak the desired amount of capers for 20 minutes or more to dissolve the salt off of the capers, strain and rinse. If the capers are still too salty, soak again in fresh water and repeat until the salt level is to your liking. For those on low salt diets, 4 soaking/rinses will suffice to remove nearly every trace of the natural Sicilian sea salt. The raw soaked capers are a wonderful addition to salads of all descriptions, they make a fantastic pickle or pesto and are great added at the final cooking stages to hot-pots and savoury meals of all persuasions.
For more information on the benefits of capers, please see my article here
Please select from the following pack sizes:
1 pack £8.39
4 pack £31.49 Saving: £0.50 per pack
Delivery Information
All orders are carefully shipped from sunny Brighton, in East Sussex, on the Southern coast of England, UK.
All UK orders only £1.95 delivery
When you have made your purchase our team will endeavour to dispatch your goods as quickly as possible. In most cases, we aim to dispatch your order within 1-2 working days of receiving it. The delivery providers we use are Royal Mail, Hermes and DHL, chosen based on your exact address, parcel size and weight. It is within our discretion to select the best service for your parcel and sometimes we use other couriers if need be. Postage UK-wide is capped at the low price of £1.95, regardless of order size.
For all EU and USA orders, regardless of order size, postage is set to £14.99. We ship all across Europe with a range of different couriers. We ship all across USA with USPS and Fedex.

For Canada, regardless of order size, our shipping rate is only £19.99
Outside of the UK, EU and USA and Canada? No problem!
Additionally, we ship worldwide. Every international order is weighed and priced individually and we only charge our customers what it costs us to send, nothing more. We use a wide range of couriers for worldwide delivery, but prioritise Royal Mail, DHL, Parcelforce or DPD. Please note, for certain Middle Eastern countries, we can only deliver to P.O box addresses.

Important please note: When placing an order to be delivered outside of the UK/EU/USA/CANADA, we will be in touch after you complete your order to accurately calculate your delivery costs. Delivery costs will need to be paid in full before your order can be dispatched.