Traditional Horn Comb - 100% Natural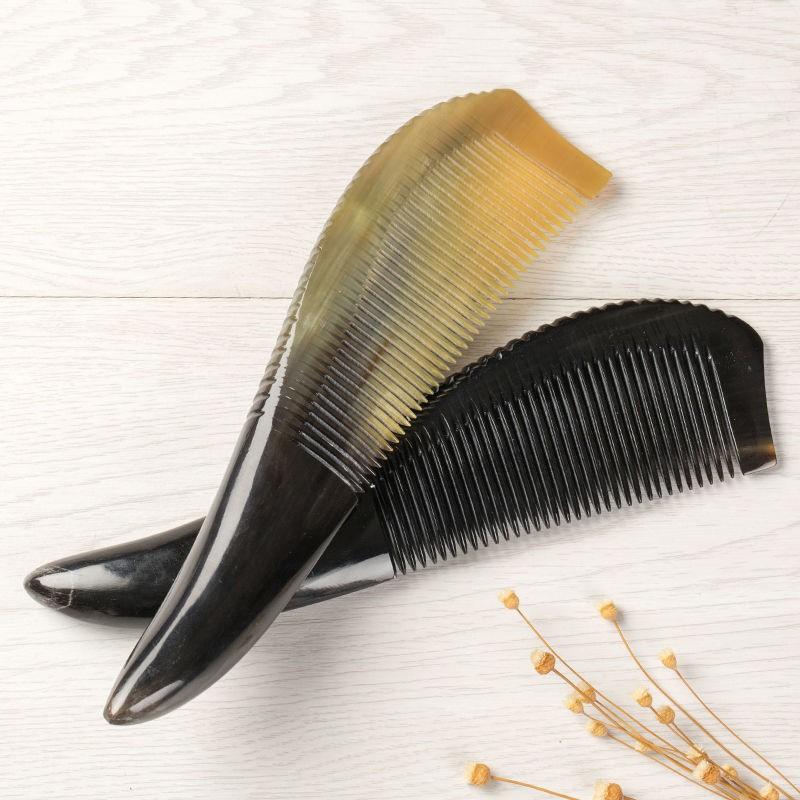 Traditional Horn Comb - 100% Natural
100% natural, hand-carved traditional Chinese horn comb made from buffalo horn.
Traditional horn combs have been used for thousands of years. Just like our own hair, they are naturally made of the protein keratin and assist in strengthening, thickening and conditioning our hair. As a result of like-on-like, the keratin horn combs simply glide through the hair better, making disentangling easier, and many people notice that they make hair shinier. Unlike plastic combs, horn combs do not trap static electricity, which causes fly-away hairs, but more importantly, an unbalanced electrical charge across the hair - from root to tip, which interferes with healthy growth.
Each standard comb is approximately 16cms long, though exact shape and colour will vary from comb to comb. When using on wet hair, carefully dry the comb afterwards.
The Premium Comb is approx 25-26cms long, is considerably thicker and has a lot more teeth. Long combs like this are relatively rare. Firstly, a suitably high-quality long horn has to be located, and secondly, it has to be combined with truly accomplished carving techniques - with a finesse, apt to carve more teeth into a single, flush, beautiful piece of hair grooming art. As per the standard comb, each premium comb is one of a kind, and colour and detail vary naturally from piece to piece.
Care Instructions: If used on wet hair, do not leave wet, dry after use.
Delivery Information
All orders are carefully shipped from sunny Brighton, in East Sussex, on the Southern coast of England, UK.
All UK orders only £1.95 delivery
When you have made your purchase our team will endeavour to dispatch your goods as quickly as possible. In most cases, we aim to dispatch your order within 1-2 working days of receiving it. The delivery providers we use are Royal Mail, Hermes and DHL, chosen based on your exact address, parcel size and weight. It is within our discretion to select the best service for your parcel and sometimes we use other couriers if need be. Postage UK-wide is capped at the low price of £1.95, regardless of order size.
For all EU and (and now) USA orders, regardless of size postage is set to £14.99. We ship all across Europe with a range of different couriers. We ship all across USA with USPS.
Outside of the UK, EU and USA? No problem!
Additionally, we ship worldwide. Every international order is weighed and priced individually and we only charge our customers what it costs us to send, nothing more. We use a wide range of couriers for worldwide delivery, but prioritise Royal Mail, DHL, Parcelforce or DPD.

Important please note: When placing an order to be delivered outside of the UK/EU/USA, we will be in touch after you complete your order to accurately calculate your delivery costs. Delivery costs will need to be paid in full before your order can be dispatched.