Zechstein Magnesium Chloride Salt Flakes by Radiant Revolutions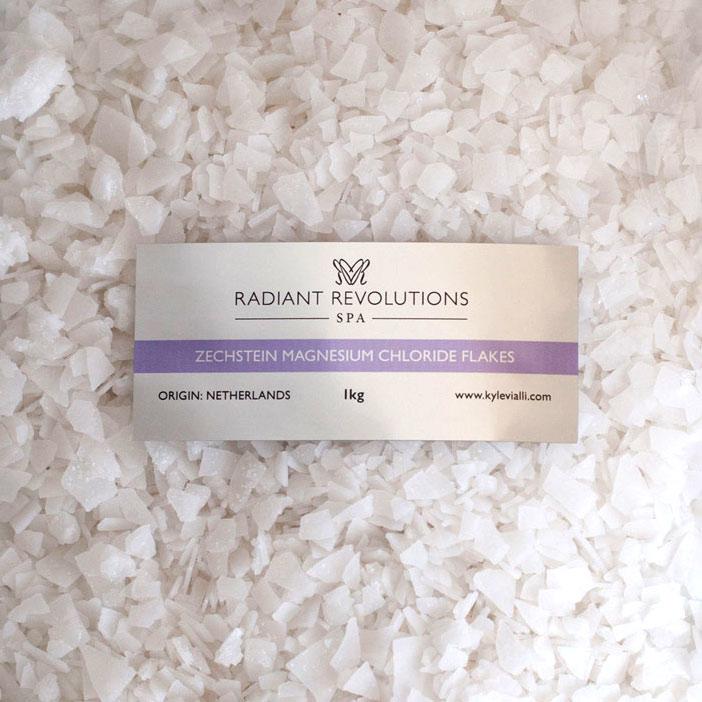 Zechstein Magnesium Chloride Salt Flakes by Radiant Revolutions
Nature-sourced, High-Purity, Food Grade Magnesium Chloride Flakes for Transdermal magnesium uptake and detoxification.
Magnesium is crucial for skeletal strength, normalised muscle function, energy production and the body's ability to detox. It is a pivotal nutrient responsible for over 300 chemical actions within the body and associated with thousands more.
When dissolved in a body or foot bath the solution feeds every cell and efficiently replaces magnesium lost through modern diet and tense lifestyles, providing you with a very relaxing 20-40 minutes of mineral uptake.
100% Zechstein magnesium chloride flakes, the purest known source that has been naturally condensed and purified for over 250 million years. Every 100g of Magnesium Flakes delivers 12g of elemental magnesium.
Magnesium chloride is extracted from water with a high salt content, such as the Great Salt Lake & Dead Sea. Our magnesium chloride is extracted by solution mining from the ancient Zechstein seabed in Northwest Europe which is the cleanest available so contains the lowest contaminant levels in the world.
Put 2-4 cups (250g - 500g) flakes in a bath and then soak and relax for at least 20 minutes. For a foot bath, 1 -1.5 cups is sufficient.
For thick lustrous hair, hair regrowth, to prevent hair fall and to ward away dandruff, so need to soak your hair and scalp.
Find a big bowl (a big glass mixing bowl is ideal). Dissolve 100g of Magnesium Flakes in 0.8 to 1 litre of hot clean water. They will dissolve quickly anyway, but you can give them a little stir. When sufficiently cooled, soak your head in the bowl for a few minutes, using your hands to cover saturate as much hair as possible with the magnesium rich liquid.
After a few minutes, you can pour the remainder of liquid over any hair or parts of the scalp that did not get a thorough soaking. Next, cover with a towel and let dry naturally. For the next few hours the magnesium will continue to absorb transdermally through the scalp and hair follicles, entering the bloodstream for your body's own use, but also, dissolving away those old calcium deposits and bringing fresh blood flow to the scalp and hair follicle. Many people prefer to do before bed, and sleep with the magnesium in, and wash off in the morning. Repeat 2-3 times a week, to increase hair growth, nourish and bring renewed blood flow to the scalp and hair follicle.
Alternatively make your own magnesium spray at 15-30% concentration with clean water.
Please select from the following weights
1kg:  £9.49
3kg: 24.99
5kg: £38.99
10kg: £66.99
Delivery Information
All orders are carefully shipped from sunny Brighton, in East Sussex, on the Southern coast of England, UK.
All UK orders only £1.95 delivery
When you have made your purchase our team will endeavour to dispatch your goods as quickly as possible. In most cases, we aim to dispatch your order within 1-2 working days of receiving it. The delivery providers we use are Royal Mail, Hermes and DHL, chosen based on your exact address, parcel size and weight. It is within our discretion to select the best service for your parcel and sometimes we use other couriers if need be. Postage UK-wide is capped at the low price of £1.95, regardless of order size.
For all EU and (and now) USA orders, regardless of size postage is set to £14.99. We ship all across Europe with a range of different couriers. We ship all across USA with USPS.
Outside of the UK, EU and USA? No problem!
Additionally, we ship worldwide. Every international order is weighed and priced individually and we only charge our customers what it costs us to send, nothing more. We use a wide range of couriers for worldwide delivery, but prioritise Royal Mail, DHL, Parcelforce or DPD.

Important please note: When placing an order to be delivered outside of the UK/EU/USA, we will be in touch after you complete your order to accurately calculate your delivery costs. Delivery costs will need to be paid in full before your order can be dispatched.