Thanaka Powder Wild (Natural Face/Body Hair Removal)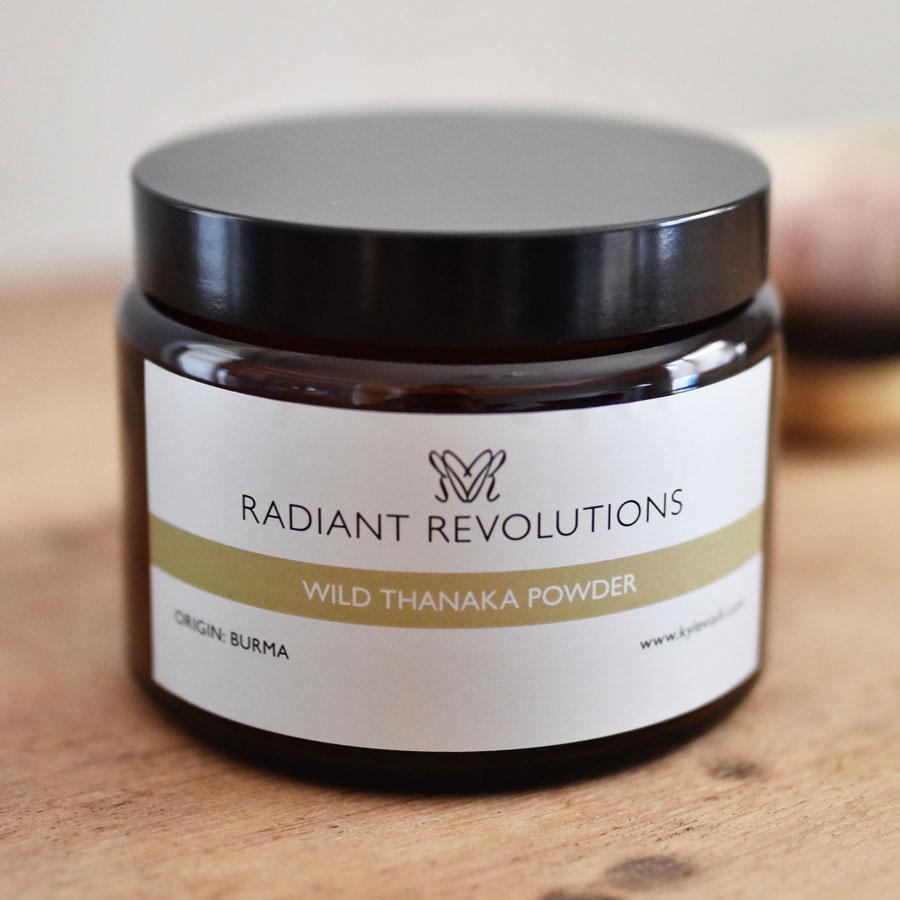 Thanaka Powder Wild (Natural Face/Body Hair Removal)
Highest Grade, Ultra-fine Wild Thanaka bark powder in amber glass by Radiant Revolutions (250g option comes in amber glass jar, 500g and 1kg come as refill pack and bulk bag). Includes detailed instructions for hair removal, sunscreen protocols and general face masks.
Discover the incredible multi-talented Burmese beauty powerhouse: Thanaka. This esteemed herb not only inhibits and eventually stops hair growth (wherever you apply it to your face or body), it also acts as a natural sunscreen and also smoothes, softens, rejuvenates and protects our skin all at the same time.
Origin: Burma
Please select from the following weights. 
250g - amber glass jar (£32.99) 
500g - amber glass jar (£56.99) 
1kg - bulk bag (£99.99)

 
For more information on this product please see below and my article here
More Information
In the local language of Burma "THANAKA" means "Elephant", it is a giant tree, found in Burma. Thanaka powder is a soft bark powder of the Burmese Thanaka tree. Its cosmetic use goes back several thousand years to the famous Queen of Peikthano who used to mix ground Thanaka bark with water to create a facial mask paste that beautified her skin.
Thanaka contains a constellation of very unique proteins that target the hair and stop the hair follicle growing new hair, over time. Thanaka also contains two more active compounds, coumarin and marmesin, which account for its anti-bacterial, anti-fungal, anti-acne, and anti-aging properties. Thanaka effectively removes dead skin cells and controlls excessive facial oil too.
Studies have also revealed that Thanaka inhibits tryosinase, the enzyme that triggers melanin synthesis and affects skin discoloration. Therefore, the regular use of Thanaka can help decrease melanomas activity and brighten your skin's complexion. It is used successfully throughout Burma as a natural sunscreen.
Delivery Information
All orders are carefully shipped from sunny Brighton, in East Sussex, on the Southern coast of England, UK.
All UK orders only £1.95 delivery
When you have made your purchase our team will endeavour to dispatch your goods as quickly as possible. In most cases, we aim to dispatch your order within 1-2 working days of receiving it. The delivery providers we use are Royal Mail, Hermes and DHL, chosen based on your exact address, parcel size and weight. It is within our discretion to select the best service for your parcel and sometimes we use other couriers if need be. Postage UK-wide is capped at the low price of £1.95, regardless of order size.
For all EU and (and now) USA orders, regardless of size postage is set to £14.99. We ship all across Europe with a range of different couriers. We ship all across USA with USPS.
Outside of the UK, EU and USA? No problem!
Additionally, we ship worldwide. Every international order is weighed and priced individually and we only charge our customers what it costs us to send, nothing more. We use a wide range of couriers for worldwide delivery, but prioritise Royal Mail, DHL, Parcelforce or DPD.

Important please note: When placing an order to be delivered outside of the UK/EU/USA, we will be in touch after you complete your order to accurately calculate your delivery costs. Delivery costs will need to be paid in full before your order can be dispatched.