Throuba Olives Organic Raw Tree Ripened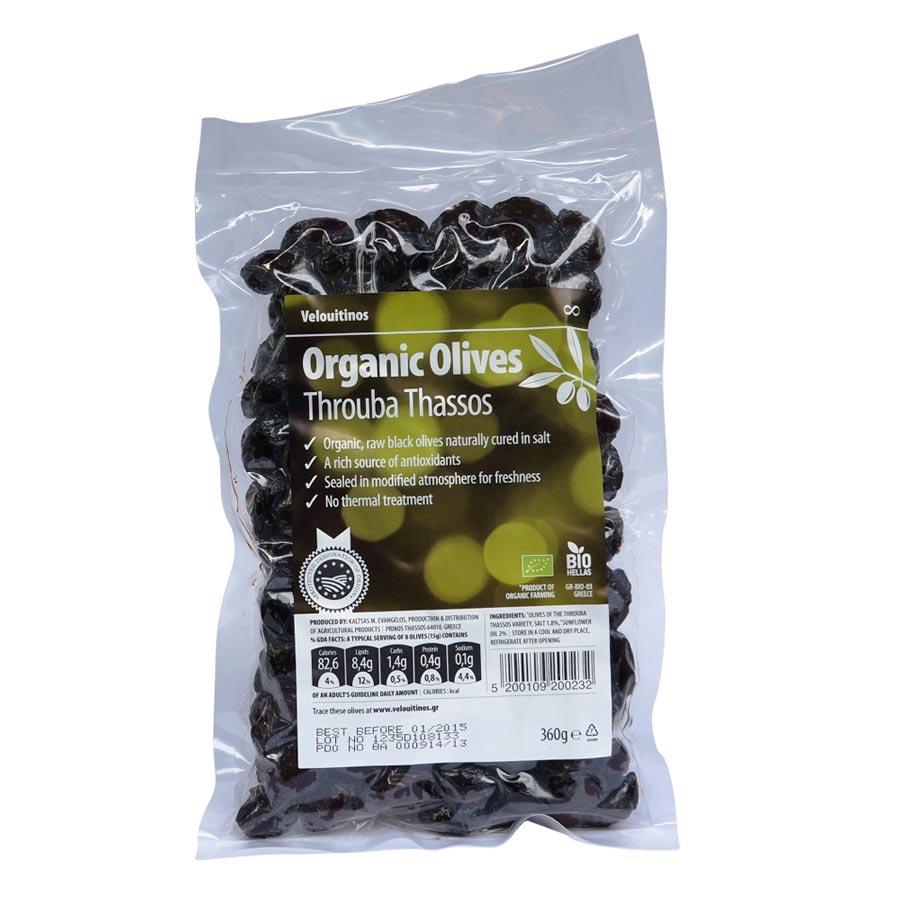 Throuba Olives Organic Raw Tree Ripened
These unique, organically certified, traditional olives are so delicious it is hard to believe that they have not been heat treated at all. The method used for producing these Throuba olives is also highly specific to this type of olive. Unlike most olives produced in Greece and around Europe Throuba Olives have not been cured in a salt water brine for long periods of time, which allows the olive to absorb the salt.
In part, this is because the Throuba olive actually ripens while still on the tree thanks to Phoma Oleae a naturally occurring microflora; it has a bittersweet taste and can be eaten straight from the tree.  On the island of Thassos where the Throuba olive comes from the traditional method of debitteration which has been used for centuries continues to be used today:
The olives are picked when ripe and black in colour, they are washed in mountain spring water that comes from the nearby mountain village of Kazaviti. Following a fine selection process whereby the best olives are selected the olives are then layered in large tanks with untreated Sea salt which enables the water and bitter taste to be drawn out. Olives absorb water and if there is salt in that water they will absorb that too. In the Throuba process the water is drained, which means the olives are not sitting in their own water, therefore not able to absorb the water or excess salt, yielding an olive with less salt and mountains of taste. The olives are then rinsed in spring water again before being lighty coated in organic cold-pressed sunflower oil.
These olives are blacker than black and meaty in texture. Their taste is sensational I am so pleased to have discovered my little friend Velouitinos and his olives and to have the opportunity to share them with you.
*Certified Organic by Bio Hellas
Ingredients:
Raw Black Throuba "Date" Olives*, Sunflower Oil 2%*, Sea Salt 1.8%.
Please select from the following pack sizes:
1 x 360g bag £7.99
3 x 360g bag (1080g in total) £21.99 MULTI SAVE*
*saving of £0.66 per bag
Delivery Information
All orders are carefully shipped from sunny Brighton, in East Sussex, on the Southern coast of England, UK.
All UK orders only £1.95 delivery
When you have made your purchase our team will endeavour to dispatch your goods as quickly as possible. In most cases, we aim to dispatch your order within 1-2 working days of receiving it. The delivery providers we use are Royal Mail, Hermes and DHL, chosen based on your exact address, parcel size and weight. It is within our discretion to select the best service for your parcel and sometimes we use other couriers if need be. Postage UK-wide is capped at the low price of £1.95, regardless of order size.
For all EU and (and now) USA orders, regardless of size postage is set to £14.99. We ship all across Europe with a range of different couriers. We ship all across USA with USPS.
Outside of the UK, EU and USA? No problem!
Additionally, we ship worldwide. Every international order is weighed and priced individually and we only charge our customers what it costs us to send, nothing more. We use a wide range of couriers for worldwide delivery, but prioritise Royal Mail, DHL, Parcelforce or DPD.

Important please note: When placing an order to be delivered outside of the UK/EU/USA, we will be in touch after you complete your order to accurately calculate your delivery costs. Delivery costs will need to be paid in full before your order can be dispatched.