Natural Mulberry 100% 25 momme Silk Pillowcases (50 x 75cm)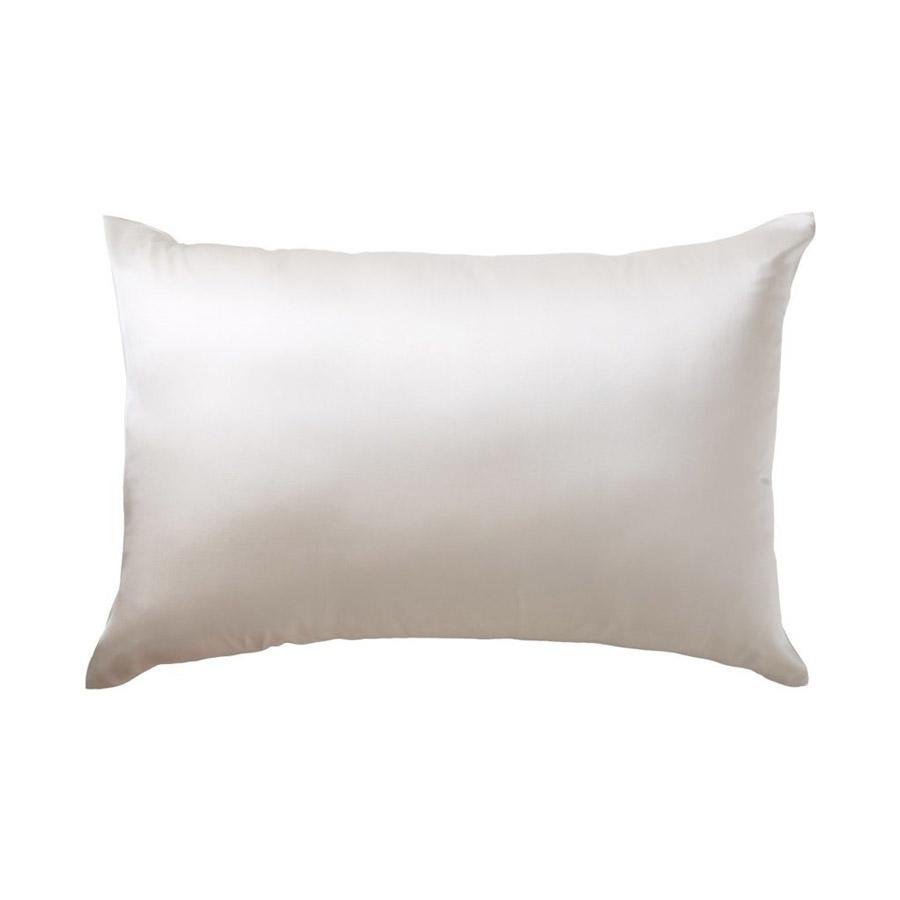 Natural Mulberry 100% 25 momme Silk Pillowcases (50 x 75cm)
The perfect beauty sleep accessory. Made of 100% mulberry silk (zero synthetic fibres or other fibres) in Vietnam by skilled craftsmen and women, of a long established lineage in the silk weaving tradition. Fairly traded and not industrially produced in China. 
Both sides made from the same 100% high quality silk fabric so you can use both (most silk pillowcases use a cotton underside - not our one).
25 Momme silk is one of the smoothest, creamiest, and shiniest types of silk.
Hidden zipper closure on the edge.
Size: +/- 20 x 30 inches (50 x 75 cm) Weight +/- 85g for 1 pillowcase
See my article here for more information.
Please choose from the following colours:
Ivory White
Dark Purple
Gold
More Information
Benefits of Silk
Natural silk is the strongest natural fiber. It contains natural proteins and 18 essential amino acids, known to reduce the signs of aging. It also contains natural cellular albumen which speeds up the metabolism of skin cells, thus delaying the aging process.
Natural silk is a breathable fabric. It is a natural temperature regulator, helping the body retain heat in cold weather and excess heat is expelled in warm weather. Therefore your body maintains a natural, comfortable temperature.
Silk is hypoallergenic; it does not attract dust mites and is a natural fungal repellent and can therefore help alleviate asthma and other allergies.
Silk has an extremely smooth and soft texture which promotes wrinkle-free sleeping, while proving to be beneficial for those with sensitive skin conditions (e.g. Eczema).
Mulberry Silk does not conduct much static electricity so the use of silk pillowcases reduces hair breakage and thinning of hair, whilst helping the hair to maintain proper moisture balance. 
As silk is hypoallergenic it helps limit a child/baby's exposure to allergens, therefore leading to a restful sleep.
It is inhospitable to dust mites and naturally fire retardant.
As silk is so soft and smooth, sleeping on a silk cot sheet can help limit the bald patch that develops on the back of a baby's head, a common occurrence with cotton sheets.
Amino acids, found in 100% natural silk, are known to aid the central nervous system and evoke calmness. This encourages a peaceful, restful sleep.
Washing Instructions: Hand wash Fill your bowl with low heat water (30°C), Add a little mild detergent then put your silk item inside the buck, Move the clothes around the bowl gently to help the cleaning process but never rub, boil or soak your silk clothes as this could damage the fibers,  Once cleaned, remove your items from the buck,  Rinse each piece of clothing separately in cold water until all detergent residue is removed, Squeeze excess water from the silk items gently and leave them to dry naturally – do not wring them out.   Machine wash: When washing silk in the machine, remember to,  Choose a low heat setting (30°C) and a gentle wash cycle, Only wash silk items with similar colors to help avoid color run,  Use a mild detergent designed for delicate fabrics,  Place delicate items inside a laundry bag to protect them whilst in the washing machine drum,  Avoid direct sunlight
Delivery Information
All orders are carefully shipped from sunny Brighton, in East Sussex, on the Southern coast of England, UK.
All UK orders only £1.95 delivery
When you have made your purchase our team will endeavour to dispatch your goods as quickly as possible. In most cases, we aim to dispatch your order within 1-2 working days of receiving it. The delivery providers we use are Royal Mail, Hermes and DHL, chosen based on your exact address, parcel size and weight. It is within our discretion to select the best service for your parcel and sometimes we use other couriers if need be. Postage UK-wide is capped at the low price of £1.95, regardless of order size.
For all EU and (and now) USA orders, regardless of size postage is set to £14.99. We ship all across Europe with a range of different couriers. We ship all across USA with USPS.
Outside of the UK, EU and USA? No problem!
Additionally, we ship worldwide. Every international order is weighed and priced individually and we only charge our customers what it costs us to send, nothing more. We use a wide range of couriers for worldwide delivery, but prioritise Royal Mail, DHL, Parcelforce or DPD.

Important please note: When placing an order to be delivered outside of the UK/EU/USA, we will be in touch after you complete your order to accurately calculate your delivery costs. Delivery costs will need to be paid in full before your order can be dispatched.