Pristine Icelandic Geothermally-Made Sea Salt Flakes in Metal Tin (250g)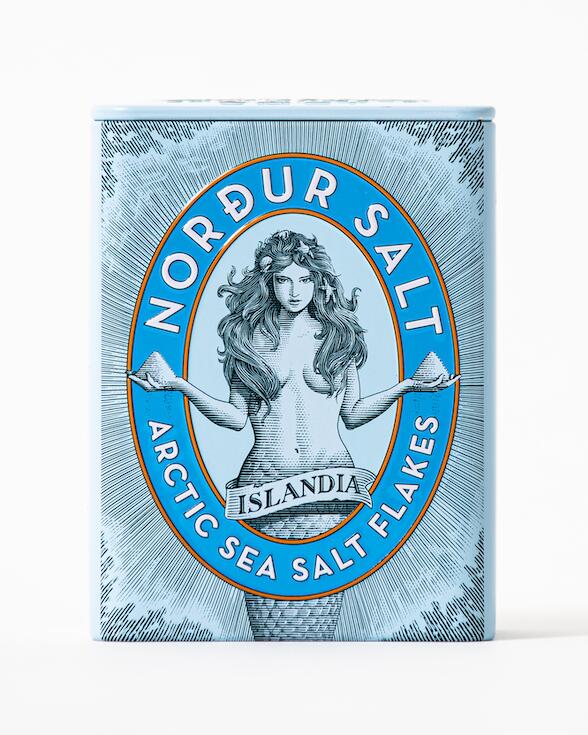 Pristine Icelandic Geothermally-Made Sea Salt Flakes in Metal Tin (250g)
250g of highest purity Icelandic Sea Salt by Norður, in a stunning tin box to last a lifetime in your home.
Perfect for all manner of gourmet, culinary, detoxification, therapeutic and eye bath use, due to its extremely low levels of impurities and rock particulates, compared to other unrefined salts.
Nordur sea salt flakes are an extremely pure sea salt from Breiðafjörður bay a stunning nature reserve on the remote West Coast of Iceland. Unlike rock salt and grey Celtic salt that can contain rock sediment particulates, Nordur sea salt is naturally low in impurities and high in electrolytes sodium, chloride, namely, but also trace electrolytes of calcium, potassium and magnesium, that are always nearly completely absent from refined salts (as a result it is an excellent salt for use in Eye baths, for example). Nordur (spelt Norður in Icelandic) uses only Geothermal Energy as the sole source of its salt production, evaporated from the pure Icelandic waters in the bay.
In all our processes and at all stages of our salt making, we use geothermal energy. Our production process involves a minimum of mechanical intervention and makes use of natural geothermal energy for heating the seawater, evaporating and drying the Nordur Salt flakes.
From the beginning, we have set a high bar in ensuring that our production facility is as environmentally friendly as possible. As far as we know, we are the only flake salt company in the world that uses geothermal energy to fuel our process. Our carbon footprint is virtually nil, something that we are especially proud of.
We start by filtering the seawater before it enters our evaporation tank to ensure the highest quality of the sea salt. In the filtering process only dirt and leftover seaweed is removed and the salt maintains its natural mineral content. We then lead geothermal hot water through the tank via a titanium heat exchanger while we constantly pump fresh seawater into it. Inside the tank, the seawater evaporates and the salinity level increases. When the brine has reached the right salinity level, it is transferred to open pans. It is slowly heated again using geothermal energy allowing the salt crystals to form as pyramids on the surface. The salt pyramids grow upside down and when they have reached a sufficient size they fall to the bottom.
At this stage, the true art form of our salt making begins; the human touch is a vital factor as the salt is hand harvested to precisely ensure the right taste and texture. Once the salt flakes have been raked from the pans, they are dried using geothermal heating. Then, it is on to the packaging stage and the salt flakes are ready to be enjoyed.
More Information
We use a 260 year old traditional Icelandic-Danish salt drying method, along with proprietary technology in the form of a pressurised stainless steel tank that is specifically designed to boil seawater at 51°C/124°F under sub-atmospheric conditions, similar to the air pressure on Mount Everest. This particular process results in a unique salt brine that contains almost the same ratios of calcium, potassium, magnesium, and sulphate as those of natural seawater.
It is no coincidence that Norður Salt is located in Breiðafjörður. Besides being a nature reserve, it is a spectacular land and seascape with shallow waters, small fjords and a myriad of reefs. Already deemed suitable for salt making in 1753, the flow of the pure Arctic seawaters into the bay and the proximity to geothermal hot springs provides the ideal conditions for environmentally sustainable salt making.
Breiðafjörður has up to six meters in difference between high and low tides. The flow of water creates the bay's extensive algal forest and biodiversity, which contributes to the salt's mineral content. We want to preserve and protect this unique environment, which is why our production is solely based on geothermal energy.
Delivery Information
All orders are carefully shipped from sunny Brighton, in East Sussex, on the Southern coast of England, UK.
All UK orders only £1.95 delivery
When you have made your purchase our team will endeavour to dispatch your goods as quickly as possible. In most cases, we aim to dispatch your order within 1-2 working days of receiving it. The delivery providers we use are Royal Mail, Hermes and DHL, chosen based on your exact address, parcel size and weight. It is within our discretion to select the best service for your parcel and sometimes we use other couriers if need be. Postage UK-wide is capped at the low price of £1.95, regardless of order size.
For all EU and USA orders, regardless of order size, postage is set to £14.99. We ship all across Europe with a range of different couriers. We ship all across USA with USPS and Fedex.

For Canada, regardless of order size, our shipping rate is only £19.99
Outside of the UK, EU and USA and Canada? No problem!
Additionally, we ship worldwide. Every international order is weighed and priced individually and we only charge our customers what it costs us to send, nothing more. We use a wide range of couriers for worldwide delivery, but prioritise Royal Mail, DHL, Parcelforce or DPD. Please note, for certain Middle Eastern countries, we can only deliver to P.O box addresses.

Important please note: When placing an order to be delivered outside of the UK/EU/USA/CANADA, we will be in touch after you complete your order to accurately calculate your delivery costs. Delivery costs will need to be paid in full before your order can be dispatched.