Pinhole Glasses Optical-Grade (One size fits all) "Tortoiseshell" Design - Bates Method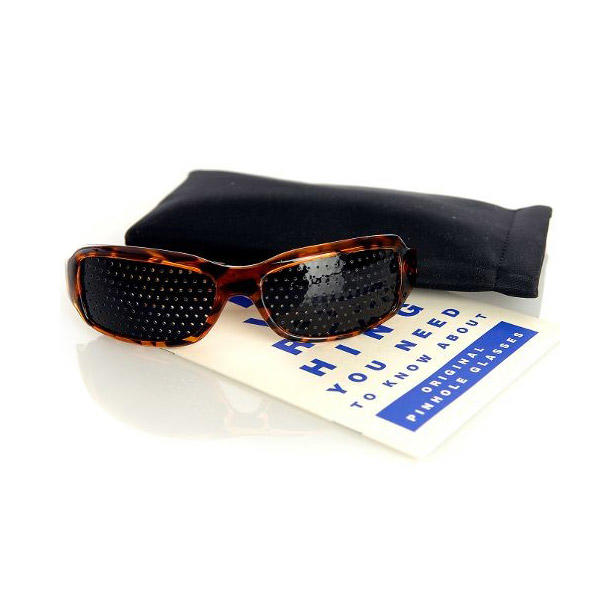 Pinhole Glasses Optical-Grade (One size fits all) "Tortoiseshell" Design - Bates Method
Every pair of our exclusive "tortoiseshell" design optical-grade pinhole glasses also comes with a protective case and a twelve page guidebook entitled "Everything you need to know about original pinhole glasses".
A lot of eye focusing problems intrinsic to short or  long-sightedness are caused by weak muscles in the eye. These optical grade pinhole glasses are specifically designed to exercise the muscles in your eyes responsible for image focusing, enabling you to improve vision naturally, whether you are short or long sighted.
They are constructed in a similar way to high quality sunglasses but instead of tinted lenses they use a grid of tiny holes. When you look through the pinholes it works your eyes' focusing muscles and improves your ability to focus – just like jogging builds up your leg and heart muscles.
The benefits do not stop at your eyes, though, pinhole glasses also help reduce stress and can prevent headaches and tension.
Pinhole glasses originated in Germany during the 1890s and have helped millions of people around the world to naturally improve their eyesight.
In addition, pinhole glasses are a perfect replacement for normal sunglasses because they effectively reduce glare while still letting natural, full-spectrum light into the eyes.
Please see Kyle's in-depth article on pinhole glasses for more details HERE
Delivery Information
All orders are carefully shipped from sunny Brighton, in East Sussex, on the Southern coast of England, UK.
All UK orders only £1.95 delivery
When you have made your purchase our team will endeavour to dispatch your goods as quickly as possible. In most cases, we aim to dispatch your order within 1-2 working days of receiving it. The delivery providers we use are Royal Mail, Hermes and DHL, chosen based on your exact address, parcel size and weight. It is within our discretion to select the best service for your parcel and sometimes we use other couriers if need be. Postage UK-wide is capped at the low price of £1.95, regardless of order size.
For all EU and (and now) USA orders, regardless of size postage is set to £14.99. We ship all across Europe with a range of different couriers. We ship all across USA with USPS.
Outside of the UK, EU and USA? No problem!
Additionally, we ship worldwide. Every international order is weighed and priced individually and we only charge our customers what it costs us to send, nothing more. We use a wide range of couriers for worldwide delivery, but prioritise Royal Mail, DHL, Parcelforce or DPD.

Important please note: When placing an order to be delivered outside of the UK/EU/USA, we will be in touch after you complete your order to accurately calculate your delivery costs. Delivery costs will need to be paid in full before your order can be dispatched.