Rose Water Organic (Unpasteurised)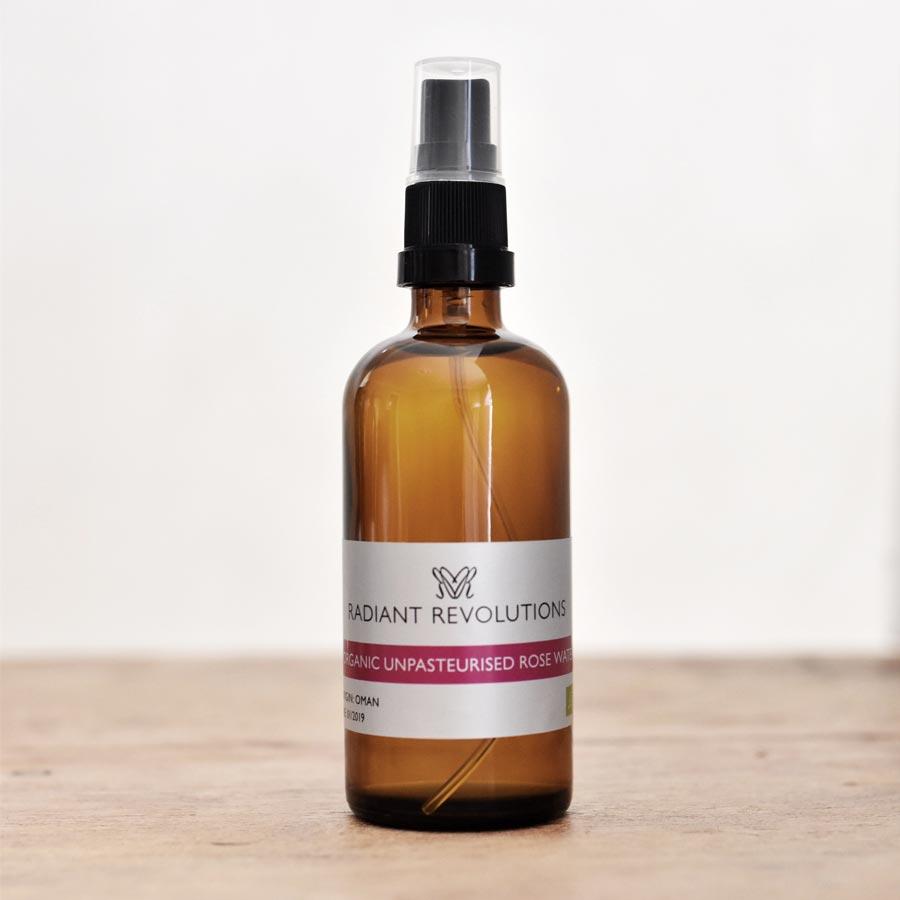 Rose Water Organic (Unpasteurised)
The highest quality unpasteurised rose water available, from the Al-Jabal Al-Akhdar highlands of Oman by Radiant Revolutions. Organic certified by the Soil Association.
Choose between the following sizes:
100ml in amber glass spray/atomiser bottle to create the perfect rose mist (£7.99)
250ml in amber glass bottle. Also the perfect refill bottle for our smaller spray bottles: (£14.99)
1 litre in amber glass bottle (£49.99)
See below for more information about this product
More Information
Reap the rich bountiful bouquet of a world class rose water famed for its high concentration of beautifying flavonoids, antioxidants and tannins.
Our Rose water is made from organically grown Damask rose (Rosa damascena). Rose water is also known as Rose Hydrosol. Our Rosewater is also completely edible and can be taken internally as a shot for digestive health and general wellbeing, or else used in a variety of different cuisines.
Applications:
Rehydrates and Cleanses the skin (the face, the whole body).
Effective as a moisturiser (either by itself, or mixed 1:1 with a cold-pressed oil).
Can be added to enhance various types of face masks instead of normal water.
Is used worldwide as highly revered food ingredient, for example in Indian curries, baking and Persian cuisine.
Internally, it can be taken as a delicious shot or mixed into a drink. Internally it has been long revered for its sedative and calming qualities and it helps to reduce nervous tension.
Storage instructions: Keep in refrigerator. Will keep 6 months in refrigerator from initial opening.
Ingredients: Distilled water, Rosa damascena.
Delivery Information
All orders are carefully shipped from sunny Brighton, in East Sussex, on the Southern coast of England, UK.
All UK orders only £1.95 delivery
When you have made your purchase our team will endeavour to dispatch your goods as quickly as possible. In most cases, we aim to dispatch your order within 1-2 working days of receiving it. The delivery providers we use are Royal Mail, Hermes and DHL, chosen based on your exact address, parcel size and weight. It is within our discretion to select the best service for your parcel and sometimes we use other couriers if need be. Postage UK-wide is capped at the low price of £1.95, regardless of order size.
For all EU and (and now) USA orders, regardless of size postage is set to £14.99. We ship all across Europe with a range of different couriers. We ship all across USA with USPS.
Outside of the UK, EU and USA? No problem!
Additionally, we ship worldwide. Every international order is weighed and priced individually and we only charge our customers what it costs us to send, nothing more. We use a wide range of couriers for worldwide delivery, but prioritise Royal Mail, DHL, Parcelforce or DPD.

Important please note: When placing an order to be delivered outside of the UK/EU/USA, we will be in touch after you complete your order to accurately calculate your delivery costs. Delivery costs will need to be paid in full before your order can be dispatched.