Baobab Oil Cold-pressed Organic, Wild-Harvested Unrefined (100ml) - FairWild Certified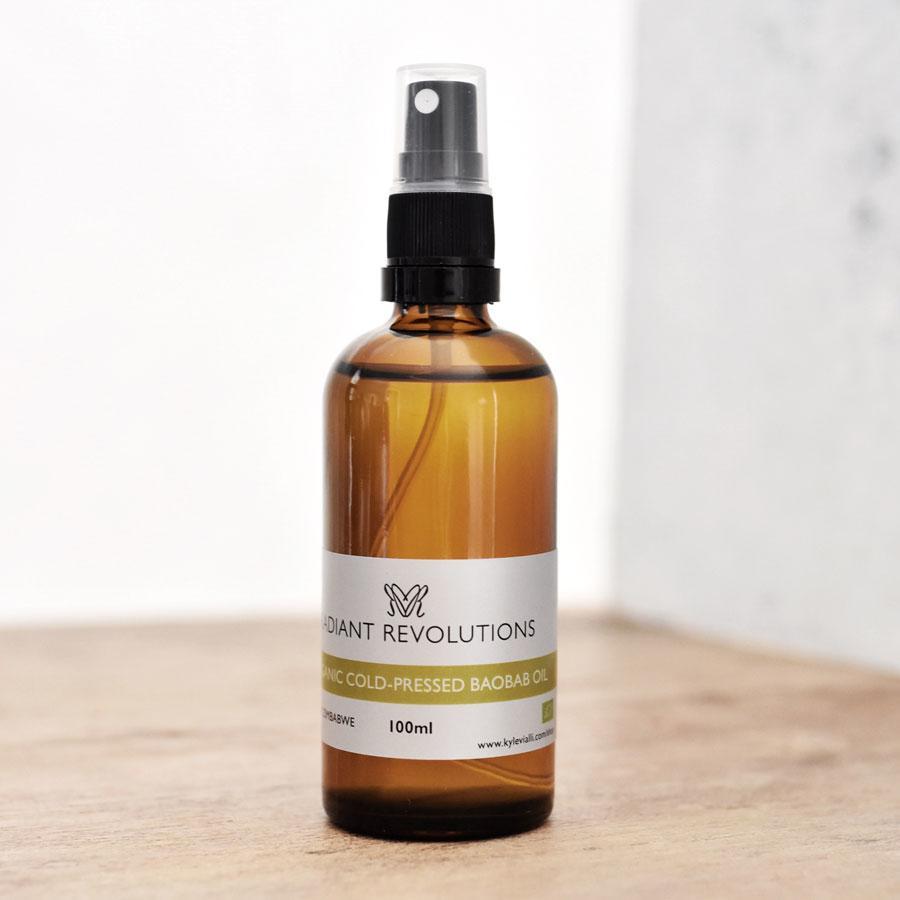 Baobab Oil Cold-pressed Organic, Wild-Harvested Unrefined (100ml) - FairWild Certified
100ml of the finest quality organic cold-pressed baobab oil in amber glass atomiser. 
This unique, Wild-Harvested oil from Mother Africa is now both FairWild certified and Soil Association Organic certified. 
Origin: Wild-Harvested on Organic Certified land in Zimbabwe .
The exotic Baobab oil is a pale yellow oil extracted from the fruit seed of wild baobab trees found in east and southern Africa. Baobab oil has a high content of Vitamins A, E, essential fatty acid and sterols that offers impressive moisturising qualities to the skin and hair. Baobab Oil is absorbed quickly, and improves elasticity, encourages regeneration of cells and does not clog pores. It is often used to treat eczema, psoriasis and rosacea problems. It may also be beneficial for healing burns, healing scars and reducing the appearance of stretch marks. It works wonderfully well as a hair conditioner too. Enjoy the wonderful benefits of the Baobab oil and include it in your beauty routine by massaging this oil regularly into the skin and even the hair.
The FairWild Foundation is guided by a dedicated team of expert conservationists and wild plant experts. Since 2008, FairWild has sounded the call for sustainable, traceable, and ethical trade in wild plant ingredients. FairWild products are guaranteed to be of fully wild, and sustainably harvested origin.
A perfect compliment with our Omanian rose hydrosol to be mixed 50:50 with the baobab oil and applied to your face for glowing, super healthy skin.
Delivery Information
All orders are carefully shipped from sunny Brighton, in East Sussex, on the Southern coast of England, UK.
All UK orders only £1.95 delivery
When you have made your purchase our team will endeavour to dispatch your goods as quickly as possible. In most cases, we aim to dispatch your order within 1-2 working days of receiving it. The delivery providers we use are Royal Mail, Hermes and DHL, chosen based on your exact address, parcel size and weight. It is within our discretion to select the best service for your parcel and sometimes we use other couriers if need be. Postage UK-wide is capped at the low price of £1.95, regardless of order size.
For all EU and (and now) USA orders, regardless of size postage is set to £14.99. We ship all across Europe with a range of different couriers. We ship all across USA with USPS.
Outside of the UK, EU and USA? No problem!
Additionally, we ship worldwide. Every international order is weighed and priced individually and we only charge our customers what it costs us to send, nothing more. We use a wide range of couriers for worldwide delivery, but prioritise Royal Mail, DHL, Parcelforce or DPD.

Important please note: When placing an order to be delivered outside of the UK/EU/USA, we will be in touch after you complete your order to accurately calculate your delivery costs. Delivery costs will need to be paid in full before your order can be dispatched.