Lustrous Vitality Hair Powder for Light Brown to Black Hair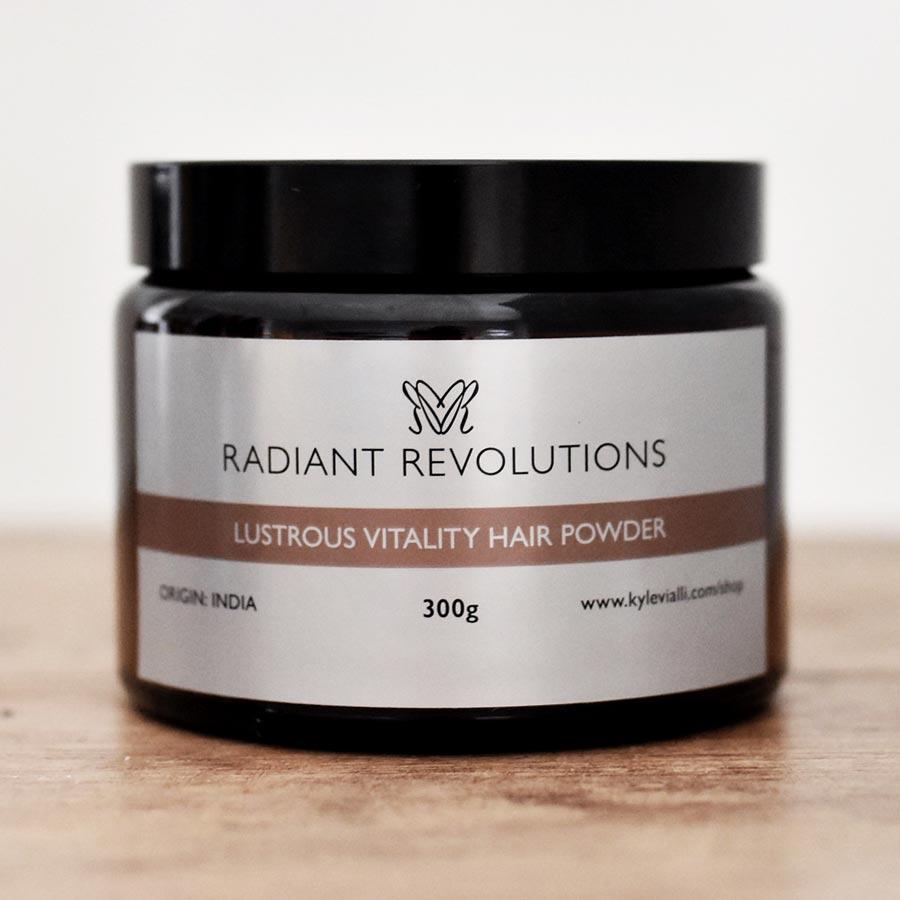 Lustrous Vitality Hair Powder for Light Brown to Black Hair
Lustrous Vitality hair powder by Radiant Revolutions 300g in amber glass jar.
With 5 years in the making and comprised of only 100% natural herbs, fruits, pods and roots, our ayurvedic Lustrous Vitality hair blend will feed, clean, nourish and revitalise your hair like you have never before experienced. Lustrous Vitality conditions, strengthens, disentangles and imparts shine and lustre to your hair. Without stripping, Lustrous Vitality regulates your hairs' natural oil protection, making it suitable for all hair types. With regular use it will increase hair growth and volume, prevent hair loss, heal hair follicle damage, encourage natural colour to return to grey hair, and clean, feed and detoxify the scalp.
Please select from the following weights:
300g in amber glass jar (£24.99)
900g refill pack (note this does not come in a glass jar) (£62.99)
saving of £1.33 per 100g compared to 300g option
See below for more information about this product
More Information
All of the ingredients in our synergistic blend have a long esteemed heritage behind them, being used for thousands of years to treat, condition and revitalise one of our most defining and revered features - the hair that flowers from the tops of our heads.
Lustrous Vitality supersedes all other hair cleaning, shampoo or conditioning products. You will not have to use anything else. Simply mix a sufficient amount of Lustrous Vitality powder with boiling or very hot water to make a chocolate sauce/runny chocolate mouse consistency hair mask, let rest. Designed to be applied into your hair and scalp for 20 mins to 1 hour +. Full professional instruction/direction sheet provided with every jar to make sure you get the most from each Lustrous Vitality hair treatment.
Blender recommended but not essential.
Your 300g Glass Jar of Lustrous Vitality is good for 3 - 8 Hair treatments, depending upon how much hair you have.
100% herbal powdered Ingredients in Alphabetical Order:
Acacia concinna (Shikakai)
Azadirachta indica (Neem)
Bacopa monnieri (Brahmi)
Curcuma longa (Tumeric)
Morinda citrifolia (Noni)
Phyllanthus emblica (Indian gooseberry)
Trigonella foenum-graecum (Fenugreek)
Zizyphus spina-christi (Sedr)
Delivery Information
All orders are carefully shipped from sunny Brighton, in East Sussex, on the Southern coast of England, UK.
All UK orders only £1.95 delivery
When you have made your purchase our team will endeavour to dispatch your goods as quickly as possible. In most cases, we aim to dispatch your order within 1-2 working days of receiving it. The delivery providers we use are Royal Mail, Hermes and DHL, chosen based on your exact address, parcel size and weight. It is within our discretion to select the best service for your parcel and sometimes we use other couriers if need be. Postage UK-wide is capped at the low price of £1.95, regardless of order size.
For all EU and USA orders, regardless of order size, postage is set to £14.99. We ship all across Europe with a range of different couriers. We ship all across USA with USPS and Fedex.

For Canada, regardless of order size, our shipping rate is only £19.99
Outside of the UK, EU and USA and Canada? No problem!
Additionally, we ship worldwide. Every international order is weighed and priced individually and we only charge our customers what it costs us to send, nothing more. We use a wide range of couriers for worldwide delivery, but prioritise Royal Mail, DHL, Parcelforce or DPD. Please note, for certain Middle Eastern countries, we can only deliver to P.O box addresses.

Important please note: When placing an order to be delivered outside of the UK/EU/USA/CANADA, we will be in touch after you complete your order to accurately calculate your delivery costs. Delivery costs will need to be paid in full before your order can be dispatched.