Humic and Fulvic Cell-Life 50:50 Mineral Blend (1000ml) in Glass bottle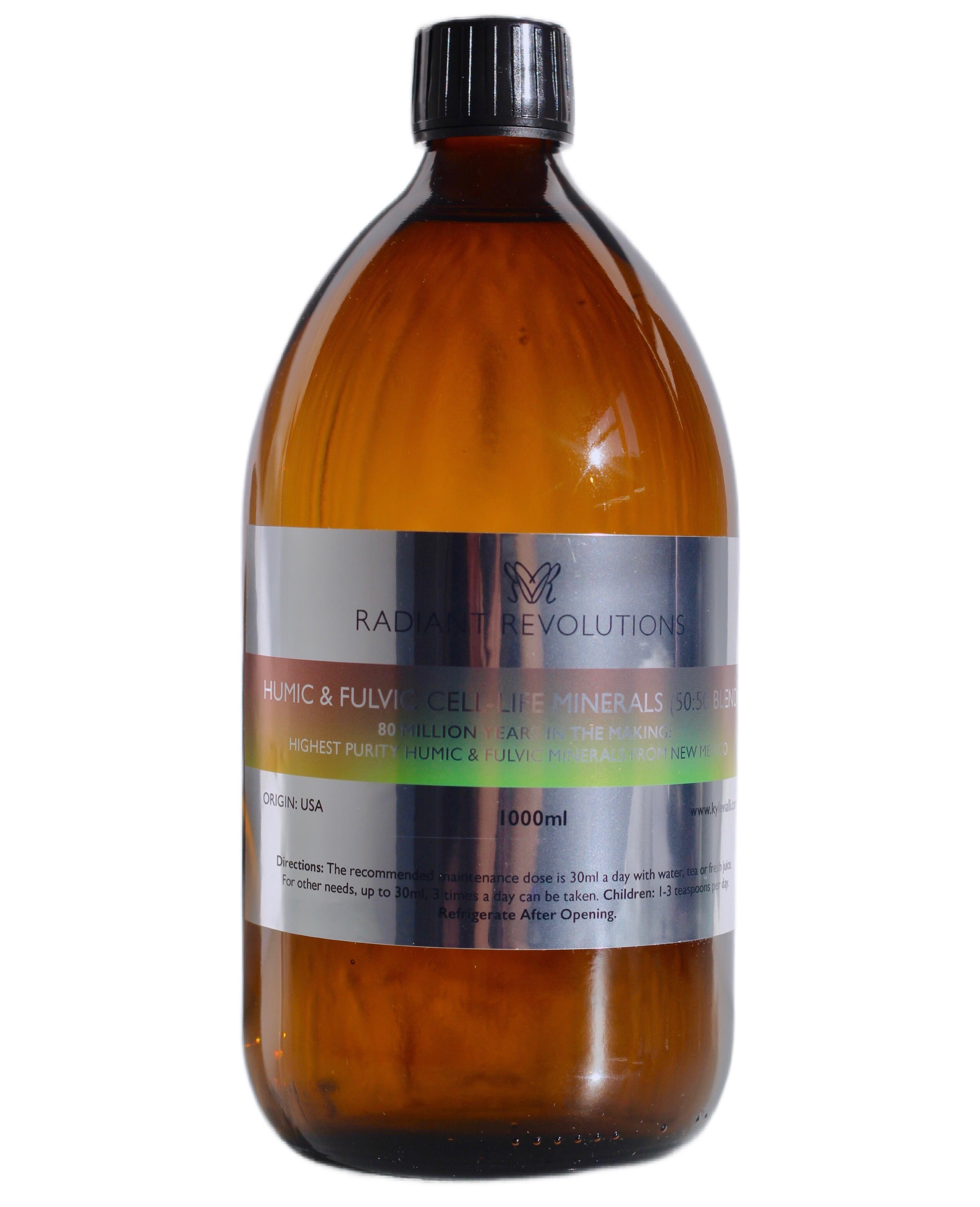 Humic and Fulvic Cell-Life 50:50 Mineral Blend (1000ml) in Glass bottle
1 litre of pure, unadulterated fulvic and humic minerals, blended at the perfect 50:50 ratio, in amber glass bottle. 
80 Million Years in the Making.
Our Fulvic and Humic trace minerals constitute the highest quality Humic or Fulvic Acid supplement available today. Our Humic and Fulvic Acid is sourced from an ancient, 80 million-year-old organic humus bed in New Mexico, USA. We then extract the humic/fulvic compounds using only pure, cold water and careful mechanical grinding. This extraction process avoids the use of chemicals, heat and pressure which can jeopardise the integrity of the fulvic compounds. Our 100% Fulvic/Humic Acid solution, has a mild taste and (despite its name) has an alkaline pH of 7.0 to 7.8. Our blend contains nothing but 100% Fulvic and Humic Acid minerals; there are no added sweeteners, flavors or colors of any kind. The powerful combo provides over 70 macro, micro and trace minerals, predominantly of plant origin.
33 Day Supply (33 x 15ml). Initial dose for first timers: start with taking 5ml a day in the first week. 10ml a day for a second week, and finally a  full tablespoon (15ml) dose at the third week - which is the standard daily or maintenance dose.
See below for more information about this product
More Information
Benefits Of Humic & Fulvic
Humic Acid
Gut Microbiome – Humic acid acts as a prebiotic nutriment that feeds our good bacteria.
Leaky Gut – Humic acid may help maintain and strengthen our intestinal lining according to several studies. It does this by supporting healthy microbiome balance, binding with pesticides which may help limit the damage they can cause, and helping to decrease the production of the inflammatory cytokines linked to increased intestinal permeability.
Detoxification – Humic acid is highly effective in binding with harmful elements and toxins according to numerous soil-based studies. By binding with heavy metals, toxins, and pesticides, humic acid helps prevent plants from absorbing these harmful compounds. Researchers believe humic acids may do the same for us in our GI tracts.
Immune Function – Through humic acid's potential benefits to GI health and natural detoxification, it may help give our immune system a better starting point. Additionally, humic acid's ability to bind with viruses may help limit their exposure to healthy cells.
Fulvic Acid
Nutrient Absorption – Fulvic acid molecules are capable of carrying many times their own weight in nutritional compounds and because these molecules are so small, they easily pass through our intestinal walls to deliver those nutrients throughout our bodies.
Ionic Mineral Supplementation – When extracted from a high-quality source like the pristine raw humates found in New Mexico, humic and fulvic acids come loaded with broad-spectrum ionic minerals.
Cell Permeability – Our cells have an electrical barrier that controls what can enter and exit the cell. These barriers can lose their electrical energy over time, especially when exposed to free radicals, but highly-energetic fulvic acid can help recharge this barrier allowing it to function more efficiently.
Antioxidant Support – Fulvic acid is a highly energetic molecule with antioxidant properties. Antioxidants fight free radical damage and oxidative stress.
Detoxification – Fulvic acid works at the cellular level to assist our cells in their natural detox processes. It does this by helping to recharge the electrical barrier of each cell and by binding with toxins as they are released from cells.
Directions: The recommended maintenance dose is 30ml a day with water, tea or fresh juice. One bottle will last 33 days at that dose.
Delivery Information
All orders are carefully shipped from sunny Brighton, in East Sussex, on the Southern coast of England, UK.
All UK orders only £1.95 delivery
When you have made your purchase our team will endeavour to dispatch your goods as quickly as possible. In most cases, we aim to dispatch your order within 1-2 working days of receiving it. The delivery providers we use are Royal Mail, Hermes and DHL, chosen based on your exact address, parcel size and weight. It is within our discretion to select the best service for your parcel and sometimes we use other couriers if need be. Postage UK-wide is capped at the low price of £1.95, regardless of order size.
For all EU and USA orders, regardless of order size, postage is set to £14.99. We ship all across Europe with a range of different couriers. We ship all across USA with USPS and Fedex.

For Canada, regardless of order size, our shipping rate is only £19.99
Outside of the UK, EU and USA and Canada? No problem!
Additionally, we ship worldwide. Every international order is weighed and priced individually and we only charge our customers what it costs us to send, nothing more. We use a wide range of couriers for worldwide delivery, but prioritise Royal Mail, DHL, Parcelforce or DPD. Please note, for certain Middle Eastern countries, we can only deliver to P.O box addresses.

Important please note: When placing an order to be delivered outside of the UK/EU/USA/CANADA, we will be in touch after you complete your order to accurately calculate your delivery costs. Delivery costs will need to be paid in full before your order can be dispatched.