Sun-dried Sicilian Green Clay - Microfine and Extremely Pure in Glass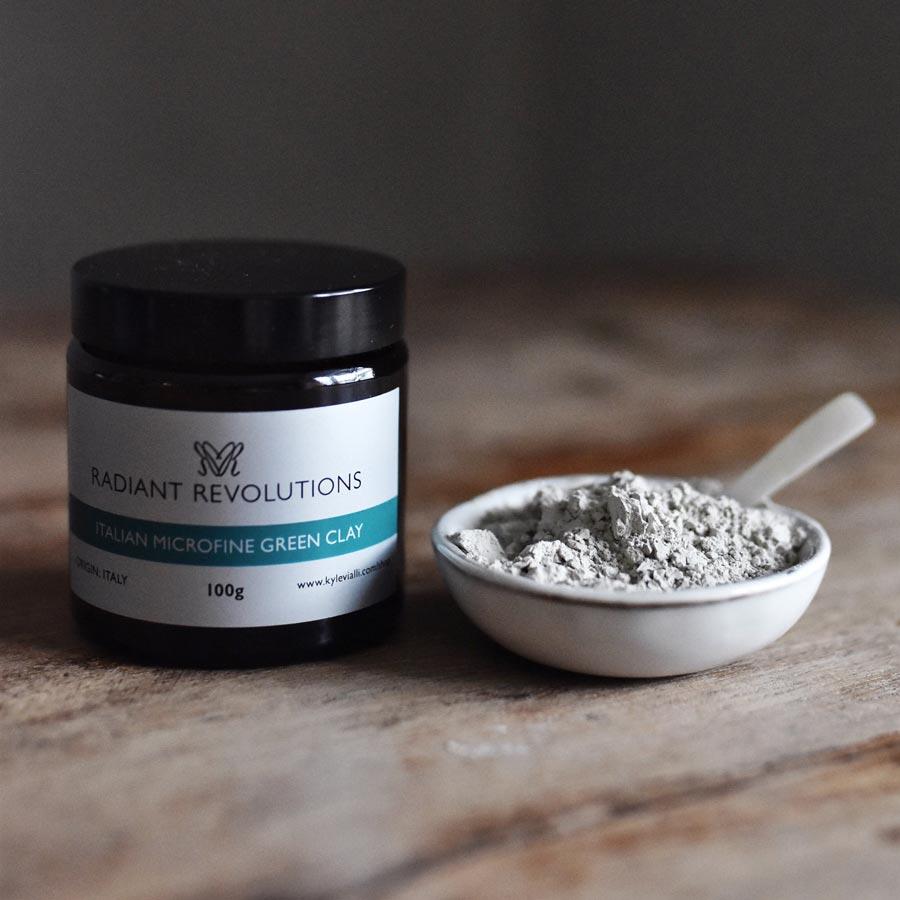 Sun-dried Sicilian Green Clay - Microfine and Extremely Pure in Glass
Sun-dried Sicilian Microfine Green Clay by our in-house brand Radiant Revolutions.
Extremely pure, microfine, sun-activated green clay from the beautiful Italian island of Sicily. 
Our clay is soft, smooth, pliable and creamy. Suitable for both external and internal use.
Our green clay is a natural anti-aging element with usage that dates back far into ancient antiquity, in cleansing and purging applications. Internally, it detoxifies and safely removes all manner of impurities. Externally, it deeply cleanses, nourishes and regenerates the skin, enhancing our complexion and bringing radiance to tired or lacklustre skin. Regular use, 1-2 per week, helps to balance oil levels in the skin and make skin more youthful. It is rich in mineral salts and natural sea oligoelements; it is extracted from a cave near the Mediterranean sea in the deep south of Sicily, where the area is clean and unpolluted, is sunny and breezy most of the year. 
Our green clay purges out toxins deeply embedded in the pores, leaving a silky, smooth, and supple skin. It is a great skin purifier for use on any any part of the body, indeed, another area that you might not have initially considered, that works extremely well to draw out toxins is the soles of the feet. Apply to to the soles of the feet, just as you would to the face, let dry until parts of it begin to flake off, and the wash-off well.
Please select above from the following weight options:
100g in amber glass jar £6.99
400g in amber glass jar £17.99
That's a saving of £2.24 per 100g compared to 100g option
1kg bulk heat seal pack £29.99
5kg bulk buy in sack £99.99
That's a saving of £4.61 per 100g compared to 100g option or £.2.36 per 100g compared to 400g option
Delivery Information
All orders are carefully shipped from sunny Brighton, in East Sussex, on the Southern coast of England, UK.
All UK orders only £1.95 delivery
When you have made your purchase our team will endeavour to dispatch your goods as quickly as possible. In most cases, we aim to dispatch your order within 1-2 working days of receiving it. The delivery providers we use are Royal Mail, Hermes and DHL, chosen based on your exact address, parcel size and weight. It is within our discretion to select the best service for your parcel and sometimes we use other couriers if need be. Postage UK-wide is capped at the low price of £1.95, regardless of order size.
For all EU and USA orders, regardless of order size, postage is set to £14.99. We ship all across Europe with a range of different couriers. We ship all across USA with USPS and Fedex.

For Canada, regardless of order size, our shipping rate is only £19.99
Outside of the UK, EU and USA and Canada? No problem!
Additionally, we ship worldwide. Every international order is weighed and priced individually and we only charge our customers what it costs us to send, nothing more. We use a wide range of couriers for worldwide delivery, but prioritise Royal Mail, DHL, Parcelforce or DPD. Please note, for certain Middle Eastern countries, we can only deliver to P.O box addresses.

Important please note: When placing an order to be delivered outside of the UK/EU/USA/CANADA, we will be in touch after you complete your order to accurately calculate your delivery costs. Delivery costs will need to be paid in full before your order can be dispatched.