Vegan Vitamin Organic D (D3) + K (K2) by Enzymedica with Added Shiitake and Blue Agave Inulin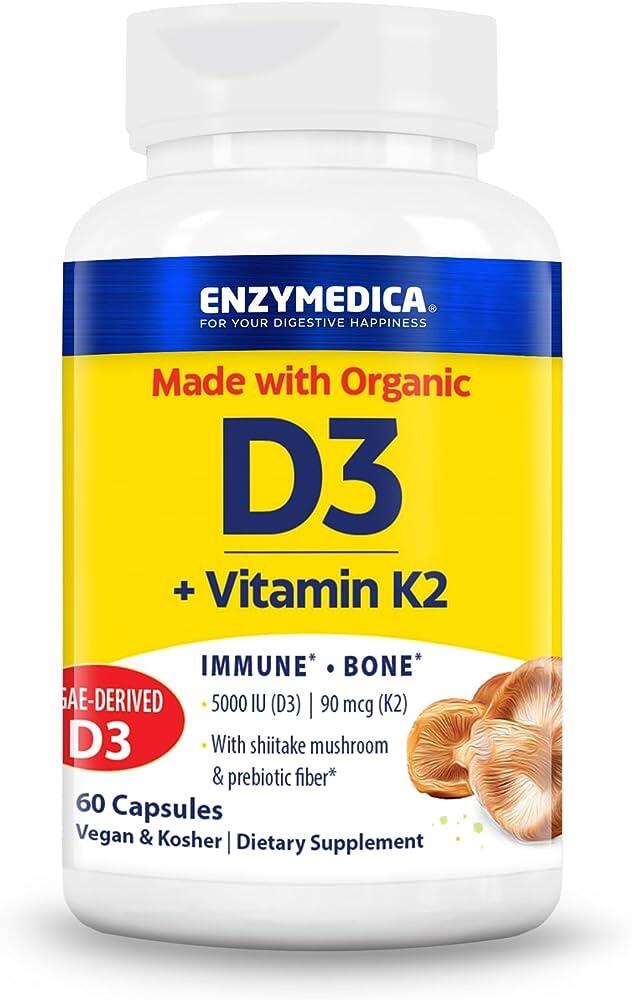 Vegan Vitamin Organic D (D3) + K (K2) by Enzymedica with Added Shiitake and Blue Agave Inulin
Vitamin D3 from 100% plant-based, non-GMO and sustainable algae.
Whole food and vegan source of 5,000 IU of vitamin D3 and 90 mcg of vitamin K2 
Supports immune health*
D3 + K2 combination helps strengthen bones* 
Premium soy-free, clinically proven MK-7 form of vitamin K2 (MenaQ7™) sourced from chickpeas
lnulin, from Organic Blue Agave, is a prebiotic that helps support the digestive system*
Vegan
Dairy Free
Gluten Free
Non-GMO
Soy Free
See below for more information about this product
More Information
Benefits
40% of the population is Vitamin D deficient. Enzymedica's Vitamin D3 includes Vitamin K2, shiitake mushrooms, and inulin for three benefits in one!* Vitamin D3, or cholecalciferol, is essential for multiple health benefits, including strong bones and strong immune and cardiovascular systems.* Enzymedica's Made with Organic D3 supplement uses the preferred form of Vitamin D, D3, which is algae derived and organic.
While most Vitamin D3 comes from lanolin (sheep's wool), the D3 found in Enzymedica's Made with Organic D3 + Vitamin K2 comes from sustainably sourced and organic algae. The benefit of using organic D3 is that it is purer and does not contain harsh chemicals that are used in conventional harvesting methods.
Enzymedica's Made with Organic D3 + K2 formula provides 5,000 IU of Vitamin D3 and 90 mcg of Vitamin K2 to support immune and bone health.* When combined with Vitamin D3, this soy-free K2, K2VITAL® supports the proper transportation and absorption of calcium into the bones.* Like Vitamin D3, Vitamin K2 is an essential Vitamin, meaning the body cannot make it, so it must be obtained through diet or supplements. Supplementing with D3 alone is not enough. Combining both essential Vitamins allow Vitamin D3 to properly absorb calcium into the bones.*
K2VITAL® is the Menaquinone 7 version of Vitamin K2 and is understood to have a high bioavailability. Kappa Bioscience created K2VITL®, and their pursuit of excellence required the development of many of the MK-7 testing methods used today. K2VITAL® is a stable form of Vitamin K. Vitamin K2 is often found in fermented foods, which the US diet has been lacking over the past 100 years. With commercialization and the increase in processed foods, Vitamin K2 deficiency has been on the rise.
Enzymedica's Made with Organic D3 + K2 supplement also includes 150 mg of organic shiitake mushroom powder, which delivers additional immune support.* Shiitake mushrooms (Lentinula edodes) are known to enhance the immune system, blood circulation, and health of the skin.*
Made with Organic D3 + K2 is a non-GMO solution to your daily Vitamin D3 and K2 requirements and includes an extra boost for the microbiome.*
Suggested Use
Take 1 capsule daily with food. For adults only.
Consult with a physician prior to use if pregnant, nursing, taking medications or have a medical condition.
*These statements have not been evaluated by the Food and Drug Administration. This product is not intended to diagnose, treat, cure, prevent any disease.
Delivery Information
All orders are carefully shipped from sunny Brighton, in East Sussex, on the Southern coast of England, UK.
All UK orders only £1.95 delivery
When you have made your purchase our team will endeavour to dispatch your goods as quickly as possible. In most cases, we aim to dispatch your order within 1-2 working days of receiving it. The delivery providers we use are Royal Mail, Hermes and DHL, chosen based on your exact address, parcel size and weight. It is within our discretion to select the best service for your parcel and sometimes we use other couriers if need be. Postage UK-wide is capped at the low price of £1.95, regardless of order size.
For all EU and USA orders, regardless of order size, postage is set to £14.99. We ship all across Europe with a range of different couriers. We ship all across USA with USPS and Fedex.

For Canada, regardless of order size, our shipping rate is only £19.99
Outside of the UK, EU and USA and Canada? No problem!
Additionally, we ship worldwide. Every international order is weighed and priced individually and we only charge our customers what it costs us to send, nothing more. We use a wide range of couriers for worldwide delivery, but prioritise Royal Mail, DHL, Parcelforce or DPD. Please note, for certain Middle Eastern countries, we can only deliver to P.O box addresses.

Important please note: When placing an order to be delivered outside of the UK/EU/USA/CANADA, we will be in touch after you complete your order to accurately calculate your delivery costs. Delivery costs will need to be paid in full before your order can be dispatched.