Organic Vanoffee Chocolate Bar by The Raw Chocolate Company (60g)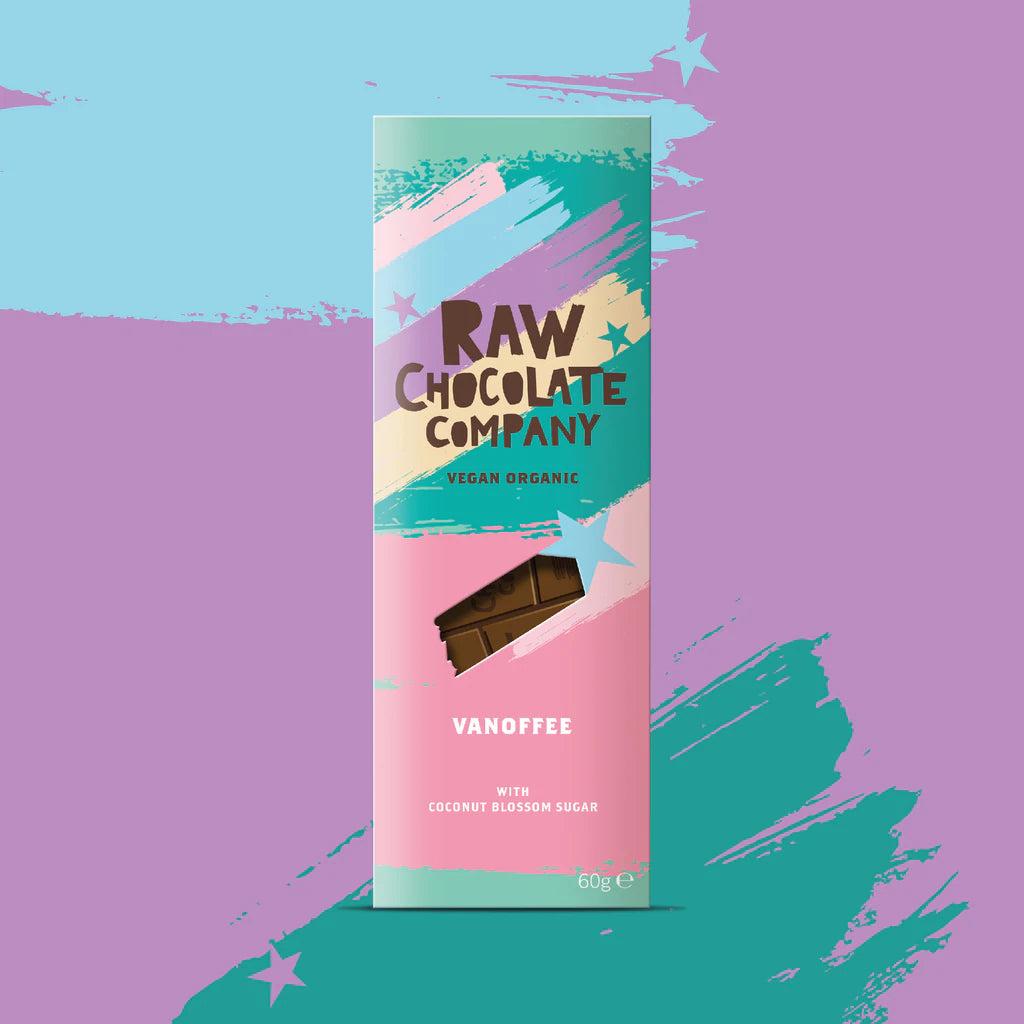 Organic Vanoffee Chocolate Bar by The Raw Chocolate Company (60g)
Unique bar with a vanilla-toffee flavour using coconut blossom sugar. Vanoffee® is a naturally sweet, smooth and creamy bar.
The Raw Chocolate Company use sun dried rather than heat treated cacao. All products are vegan and certified organic. If you know the brand already, these are their new bigger 60g bars (not the previous, considerably smaller 37g ones).
Pioneering packaging is entirely recyclable and compostable.
Made with Ugandan Vanilla, Peruvian Lucuma fruit powder and creamy cacao butter, this dreamy vanilla toffee flavour chocolate bar is suitable for vegans and is organic as well as being ethically sourced.
This 'white chocolate'  is not actually white due to the natural colours of the ingredients used! It is however free from cacao solids and their stimulating effects, making it perfect for kids and adults alike, and for indulging in at all hours of the day!
Ingredients: cacao butter*, coconut sugar*, lucuma*, vanilla*. *organic
Single: £2.99
Box of 10: £2.70 per bar (£27.00)
Delivery Information
All orders are carefully shipped from sunny Brighton, in East Sussex, on the Southern coast of England, UK.
All UK orders only £1.95 delivery
When you have made your purchase our team will endeavour to dispatch your goods as quickly as possible. In most cases, we aim to dispatch your order within 1-2 working days of receiving it. The delivery providers we use are Royal Mail, Hermes and DHL, chosen based on your exact address, parcel size and weight. It is within our discretion to select the best service for your parcel and sometimes we use other couriers if need be. Postage UK-wide is capped at the low price of £1.95, regardless of order size.
For all EU and USA orders, regardless of order size, postage is set to £14.99. We ship all across Europe with a range of different couriers. We ship all across USA with USPS and Fedex.

For Canada, regardless of order size, our shipping rate is only £19.99
Outside of the UK, EU and USA and Canada? No problem!
Additionally, we ship worldwide. Every international order is weighed and priced individually and we only charge our customers what it costs us to send, nothing more. We use a wide range of couriers for worldwide delivery, but prioritise Royal Mail, DHL, Parcelforce or DPD. Please note, for certain Middle Eastern countries, we can only deliver to P.O box addresses.

Important please note: When placing an order to be delivered outside of the UK/EU/USA/CANADA, we will be in touch after you complete your order to accurately calculate your delivery costs. Delivery costs will need to be paid in full before your order can be dispatched.