PURE ALTAI MOUNTAIN WILD SIBERIAN SHILAJIT - 100G IN AMBER GLASS JAR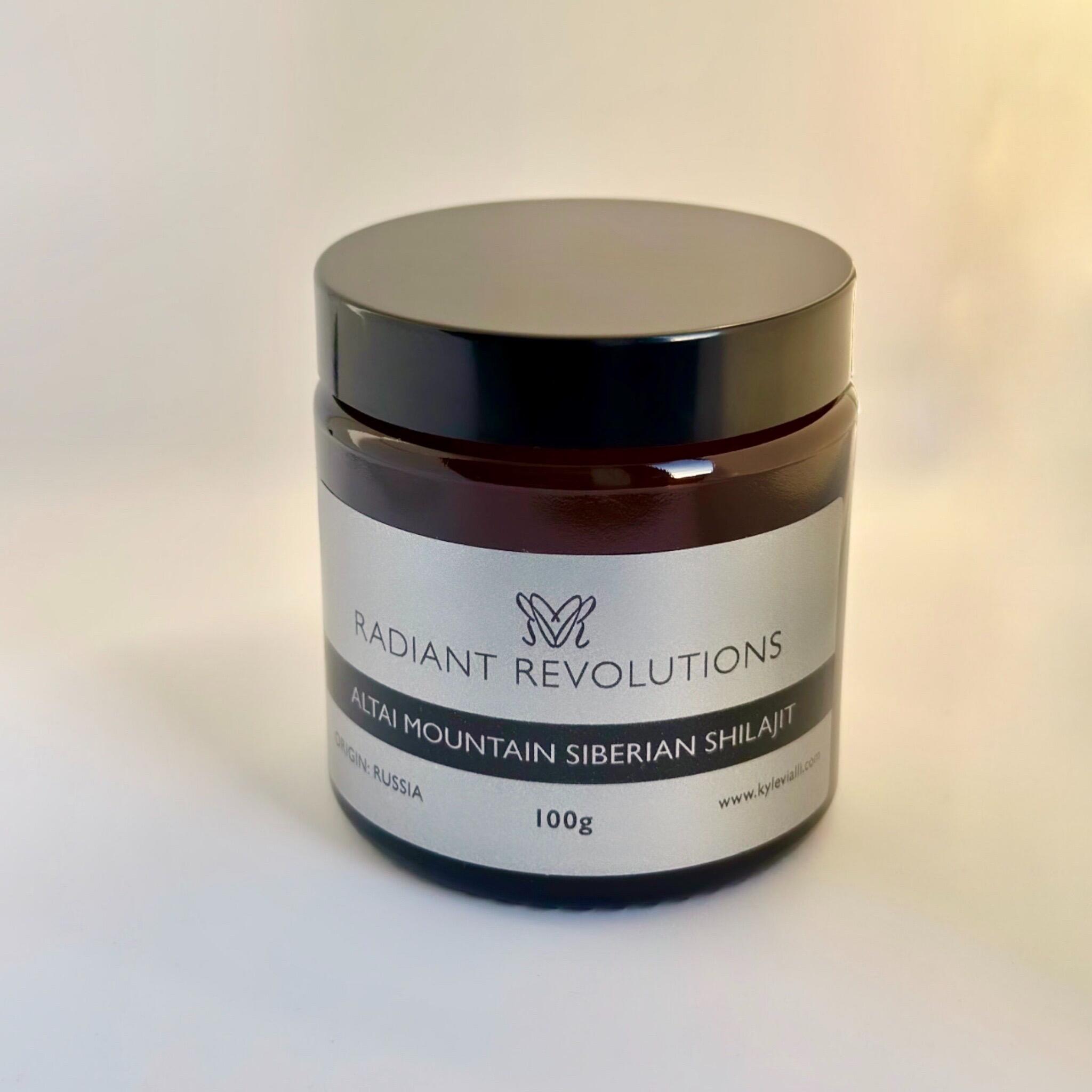 PURE ALTAI MOUNTAIN WILD SIBERIAN SHILAJIT - 100G IN AMBER GLASS JAR
The highest quality shilajit available, anywhere, at an exceptional price. Fully certified, purified and lab tested, this impeccable, incredibly unique wild substance, also known as mumijo, is sourced from the pristine veins of the Altai Mountains, one of the cleanest and least populated ecosystems in the World, in the deep wilds of southern Siberia. We have been selling this genuine highest-quality shilajit, cleaned and certified, in the UK, Europe and Worldwide for over 7 years, and have 1000s of satisfied customers, the majority of which become ongoing loyal customers. We also have an excellent relationship with an Altai cooperative that carefully collect and clean this exceptional product in the Altai mountains and this allows us to get a more reasonable price and we pass on our savings to our customers. 
Do not settle on a shilajit brand before you try ours. This is how real, authentic, highest purity shilajit should behave and taste. And we only ever provide our wild shilajit in amber glass jars.
100g in amber glass jar.
Known traditionally as "the destroyer of weakness".
Contains more than 84 minerals.
Extremely rich in humic and fulvic compounds.
Esteemed adaptogen.
Enhances energy, stamina, recovery and reduces imflammatory response.
Supports the immune system. 
Ingredients: 100% pure Wild Shilajit sourced directly from the Altai Mountains of Siberia in Russia, only. Shilajit is completely water soluble, well tolerated with an exceptionally high bioavailability for quick nutritional uptake into the cells.
How to use and Dosage: Shilajit is thick and dense in the jar, but it dissolves readily in the mouth or inside a warm liquid (a sign of its fast acting absorption and bioavailability).  
In Drinks:
Simply stir one quarter to one third of a teaspoon of shilajit into a glass/mug of something warming, whether that is, at its simplest, just a glass of hot water, or a herbal tea. Shilajit also lends itself well to vegan or dairy milk hot drinks like a nice mug of hot chocolate. In fact, the earthy taste of shilajit pairs very well with cacao. 
Shilajit also dissolves readily in room temperature or cold water, it just takes longer to do so. 
In Food:
At its simplest, right off the spoon and dissolved in the mouth. Chased down with a little water, fresh juice, tea, or even organic brandy. 
Aside from that, shilajit lends its nutritional profile, earthiness and texture, to numerous recipes, including energy balls, brownie cakes, even breads.
General note:
To easily remove the shilajit resin from the jar, especially in the colder months, simply put a spoon in hot or boiling water for 10 seconds, dry the spoon and scoop out your shilajit. 
Delivery Information
All orders are carefully shipped from sunny Brighton, in East Sussex, on the Southern coast of England, UK.
All UK orders only £1.95 delivery
When you have made your purchase our team will endeavour to dispatch your goods as quickly as possible. In most cases, we aim to dispatch your order within 1-2 working days of receiving it. The delivery providers we use are Royal Mail, Hermes and DHL, chosen based on your exact address, parcel size and weight. It is within our discretion to select the best service for your parcel and sometimes we use other couriers if need be. Postage UK-wide is capped at the low price of £1.95, regardless of order size.
For all EU and USA orders, regardless of order size, postage is set to £14.99. We ship all across Europe with a range of different couriers. We ship all across USA with USPS and Fedex.

For Canada, regardless of order size, our shipping rate is only £19.99
Outside of the UK, EU and USA and Canada? No problem!
Additionally, we ship worldwide. Every international order is weighed and priced individually and we only charge our customers what it costs us to send, nothing more. We use a wide range of couriers for worldwide delivery, but prioritise Royal Mail, DHL, Parcelforce or DPD. Please note, for certain Middle Eastern countries, we can only deliver to P.O box addresses.

Important please note: When placing an order to be delivered outside of the UK/EU/USA/CANADA, we will be in touch after you complete your order to accurately calculate your delivery costs. Delivery costs will need to be paid in full before your order can be dispatched.