Tea Tree Water Organic Unpasteurised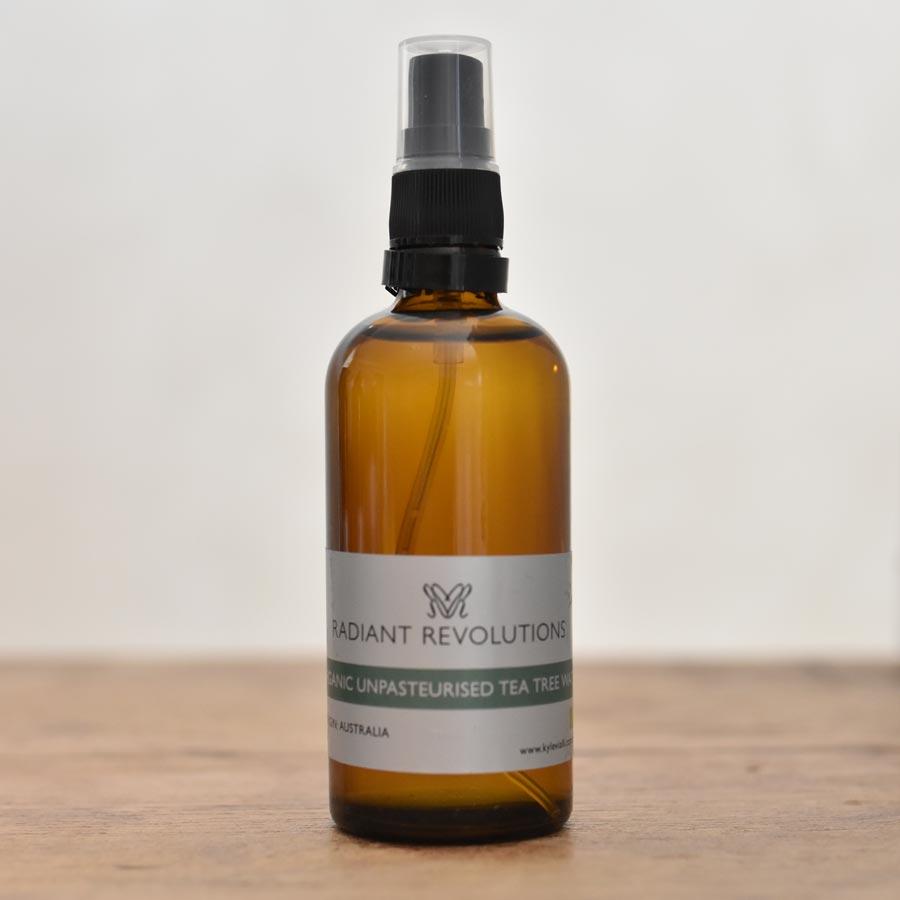 Tea Tree Water Organic Unpasteurised
The highest quality unpasteurised Tea Tree water (aka hydrosol) available, from the Wagga Wagga region of New South Wales, Australia. Organic certified by the Soil Association.
Choose between the following sizes:
100ml in amber glass spray/atomiser bottle to create the perfect Tea Tree hydrosol mist. (£7.99)
250ml in amber glass bottle. Also the perfect refill bottle for our smaller spray bottles. (£14.99)
1 litre in amber glass bottle (£49.99)
See below for more information about this product
More Information
Reap the broad spectrum repertoire of this world class tea tree water famed for its high concentration of antifungal, antibacterial, antiseptic and antiviral components. If Rose Water is the Queen of Hydrosols, Tea Tree is the King.
Our Tea Tree water is made from organically grown Tea Tree (Melaleuca alternifolia). Our Tea Tree water is also completely edible and can be taken internally as a shot to clear up colds and general infections. Excellent as a gargle for all manner of throat infections too.
Tea Tree water is the perfect toner for acne prone, dry skin and may also be used as an after shave for razor burnt skin.
This natural antibacterial can be mixed in with your favourite face oil to impart actual hydration and glow to your skin, whilst helping to ward away a variety of skin conditions.
Hydrosols are the pure Bi-product of the steam distillation of plant material. When plants are steam distilled to produce essential oils, some valuable compounds of the plant, that are not found in the essential oil, become dissolved in the distillation water.
This condensed fragrant steam is known as hydrosols or aromatic waters. It contains some drops of the essential oil as well as water soluble plant properties which are anti-inflammatory and non-irritating for sensitive skin. The micro drops of essential oil provide the scent and taste. The plant components give the hydrosols their herbal therapy properties. Hydrosols are gentle yet powerful therapeutic agents in their own right.
Delivery Information
All orders are carefully shipped from sunny Brighton, in East Sussex, on the Southern coast of England, UK.
All UK orders only £1.95 delivery
When you have made your purchase our team will endeavour to dispatch your goods as quickly as possible. In most cases, we aim to dispatch your order within 1-2 working days of receiving it. The delivery providers we use are Royal Mail, Hermes and DHL, chosen based on your exact address, parcel size and weight. It is within our discretion to select the best service for your parcel and sometimes we use other couriers if need be. Postage UK-wide is capped at the low price of £1.95, regardless of order size.
For all EU and (and now) USA orders, regardless of size postage is set to £14.99. We ship all across Europe with a range of different couriers. We ship all across USA with USPS.
Outside of the UK, EU and USA? No problem!
Additionally, we ship worldwide. Every international order is weighed and priced individually and we only charge our customers what it costs us to send, nothing more. We use a wide range of couriers for worldwide delivery, but prioritise Royal Mail, DHL, Parcelforce or DPD.

Important please note: When placing an order to be delivered outside of the UK/EU/USA, we will be in touch after you complete your order to accurately calculate your delivery costs. Delivery costs will need to be paid in full before your order can be dispatched.