Pueraria Mirifica Powder Organic Wild-Crafted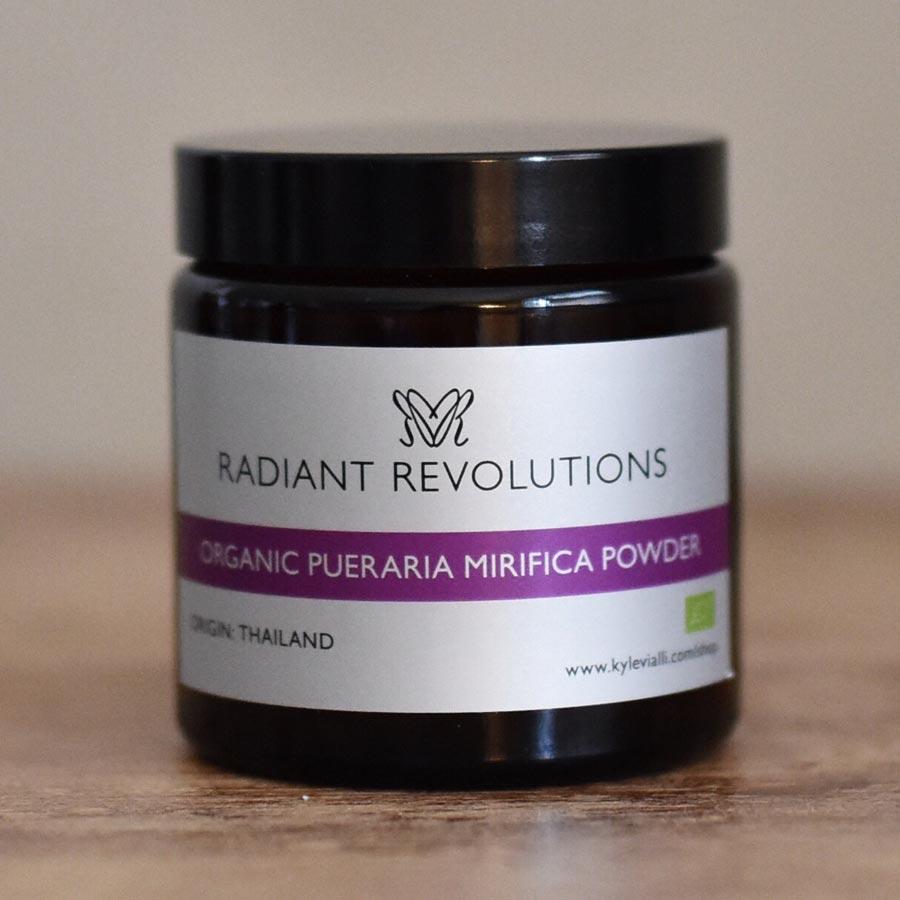 Pueraria Mirifica Powder Organic Wild-Crafted
Organic Certified Pueraria Mirifica Powder in amber glass by Radiant Revolutions (60g and 250g options comes in amber glass jar, 500g and 1kg come as refill pack and bulk bag).
Pure, 100% unadulterated, organically certified Pueraria Mirifica powder, wildcrafted in the mountains of Phu Kradung national park region, Northern Thailand. Unlike nearly every other powder on the market, our Pueraria Mirifica is completely free of useless fillers, namely Magnesium Stearate, which is standardly added to Pueraria Mirifica as a bulking agent. Pueraria Mirifica is the richest known source of wide-spectrum rejuvenating phytoestrogens used traditionally for hundreds, if not thousands of years by Thai women (and to a slightly lesser extent men). By boosting the body's own supply of beneficial estrogen hormones, Pueraria Mirifica fundamentally functions as potent youthening agent, helping to naturally restore sagging breasts, wrinkled skin, bone loss, gray hair, post-menopausal symptoms and a host of other conditions brought on by estrogenic deficiency.
Origin: Thailand
Please select from the following weights:
60g (£10.99)
250g (£35.99)
500g - refill pack (£64.99)
1kg - bulk bag (£114.99)
Delivery Information
All orders are carefully shipped from sunny Brighton, in East Sussex, on the Southern coast of England, UK.
All UK orders only £1.95 delivery
When you have made your purchase our team will endeavour to dispatch your goods as quickly as possible. In most cases, we aim to dispatch your order within 1-2 working days of receiving it. The delivery providers we use are Royal Mail, Hermes and DHL, chosen based on your exact address, parcel size and weight. It is within our discretion to select the best service for your parcel and sometimes we use other couriers if need be. Postage UK-wide is capped at the low price of £1.95, regardless of order size.
For all EU and USA orders, regardless of order size, postage is set to £14.99. We ship all across Europe with a range of different couriers. We ship all across USA with USPS and Fedex.

For Canada, regardless of order size, our shipping rate is only £19.99
Outside of the UK, EU and USA and Canada? No problem!
Additionally, we ship worldwide. Every international order is weighed and priced individually and we only charge our customers what it costs us to send, nothing more. We use a wide range of couriers for worldwide delivery, but prioritise Royal Mail, DHL, Parcelforce or DPD. Please note, for certain Middle Eastern countries, we can only deliver to P.O box addresses.

Important please note: When placing an order to be delivered outside of the UK/EU/USA/CANADA, we will be in touch after you complete your order to accurately calculate your delivery costs. Delivery costs will need to be paid in full before your order can be dispatched.