Nature's Living Superfood Blend - 36 Organic Ingredient Blend (300g) by Kiki Health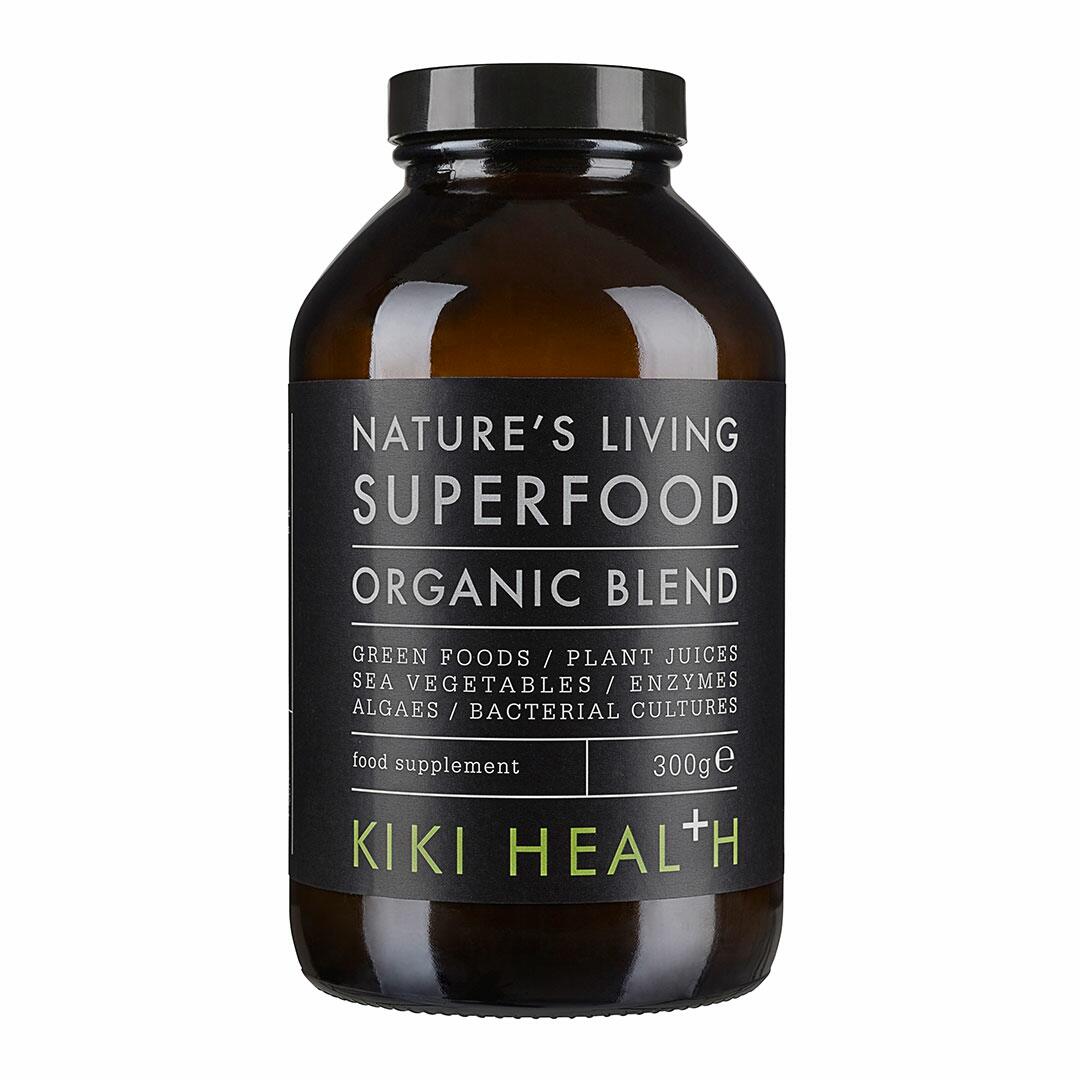 Nature's Living Superfood Blend - 36 Organic Ingredient Blend (300g) by Kiki Health
Your all in one daily supplement. (As with all the Kiki Health products on our site, we only stock the largest size jar available, in this case the 300g jar).
Organic Nature's Living Superfood is a green alkalising whole food supplement. It is derived from a comprehensive blend of whole foods, including alkalising land and sea vegetables, micro-algae, enzymes and bacterial cultures.
Organic Nature's Living Superfood is made exclusively from plant-based whole-food ingredients, which allow the body to absorb the nutrients it needs and support digestive health. All 36 nutrient-rich ingredients have been carefully selected, balanced and prepared to ensure maximum absorption and utilization in the body at a cellular level. Contains no fillers, or preservatives.
We source only the finest quality local and imported ingredients from our trusted suppliers.
In today's hectic lifestyle it is sometimes a challenge to consume enough nutrient-dense, fresh foods.
The complex blend of green foods and plant juices makes Organic Nature's Living Superfood the perfect addition to your favourite smoothie or juice. It also tastes great sprinkled on salads or simply mixed with water.
Ingredients
Land Vegetables:
Nettle Leaf, Wheat Grass, Barley Grass, Horsetail, Alfalfa Grass Juice, Carob, Burdock Root, Ginger Root, Nopal Cactus, Barley Grass Juice, Wheat Grass Juice, Oat Grass Juice, Dandelion Leaf, Parsley Leaf, Kale, Broccoli, Cabbage, Amla Fruit.
Algaes:
Spirulina, Chlorella (Broken Cell Wall).
Sea Vegetables:
Kelp, Fucus Vesiculosus.
Enzymes: 
Lipase*, Cellulase*, Protease*, Amylase*, Bromelain*, Papain*.
Bacterial Cultures:
Bacillus Subtilis*, Bacillus licheniformis*, Lactobacillus Acidophilus*,Lactobacillus Casei*, Lactobacillus Plantarum*, Lactobacillus Rhamnosus*, Lactococcus Lactis*, Bifobacterium Bifidum*.
*Non-organic ingredients
Adults intake should begin with ½ teaspoon daily and gradually increase to 1 or more heaped teaspoons according to your lifestyle.
More Information
Organic Nature's Living Superfood is NOT diluted with inexpensive Apple, Fibre, Rice, Bran, Barley, Malt, F.O.S., Oat Bran, Rice Solids, large amounts of Lecithin or anything else!
Suitable for vegetarians and vegans. Free from gluten.
No artificial colours, preservatives, sweeteners or fillers.
Store in a cool, dry place away from direct sunlight. Refrigeration is not required.
Directions
Adults intake should begin with ½ teaspoon daily and gradually increase to 1 or more heaped teaspoons according to your lifestyle.
Organic Nature's Living Superfood can be consumed mixed with juice or pure water. Alternatively it can be sprinkled or mixed with food.
Nature's Living Superfood is packed in amber glass for optimum nutritional preservation, freshness and purity.
Delivery Information
All orders are carefully shipped from sunny Brighton, in East Sussex, on the Southern coast of England, UK.
All UK orders only £1.95 delivery
When you have made your purchase our team will endeavour to dispatch your goods as quickly as possible. In most cases, we aim to dispatch your order within 1-2 working days of receiving it. The delivery providers we use are Royal Mail, Hermes and DHL, chosen based on your exact address, parcel size and weight. It is within our discretion to select the best service for your parcel and sometimes we use other couriers if need be. Postage UK-wide is capped at the low price of £1.95, regardless of order size.
For all EU and (and now) USA orders, regardless of size postage is set to £14.99. We ship all across Europe with a range of different couriers. We ship all across USA with USPS.
Outside of the UK, EU and USA? No problem!
Additionally, we ship worldwide. Every international order is weighed and priced individually and we only charge our customers what it costs us to send, nothing more. We use a wide range of couriers for worldwide delivery, but prioritise Royal Mail, DHL, Parcelforce or DPD.

Important please note: When placing an order to be delivered outside of the UK/EU/USA, we will be in touch after you complete your order to accurately calculate your delivery costs. Delivery costs will need to be paid in full before your order can be dispatched.