Natural Bamboo Dish Brush Set - Eco Plant Based Washing Up Brushes, 100% Plastic-Free by Jungle Culture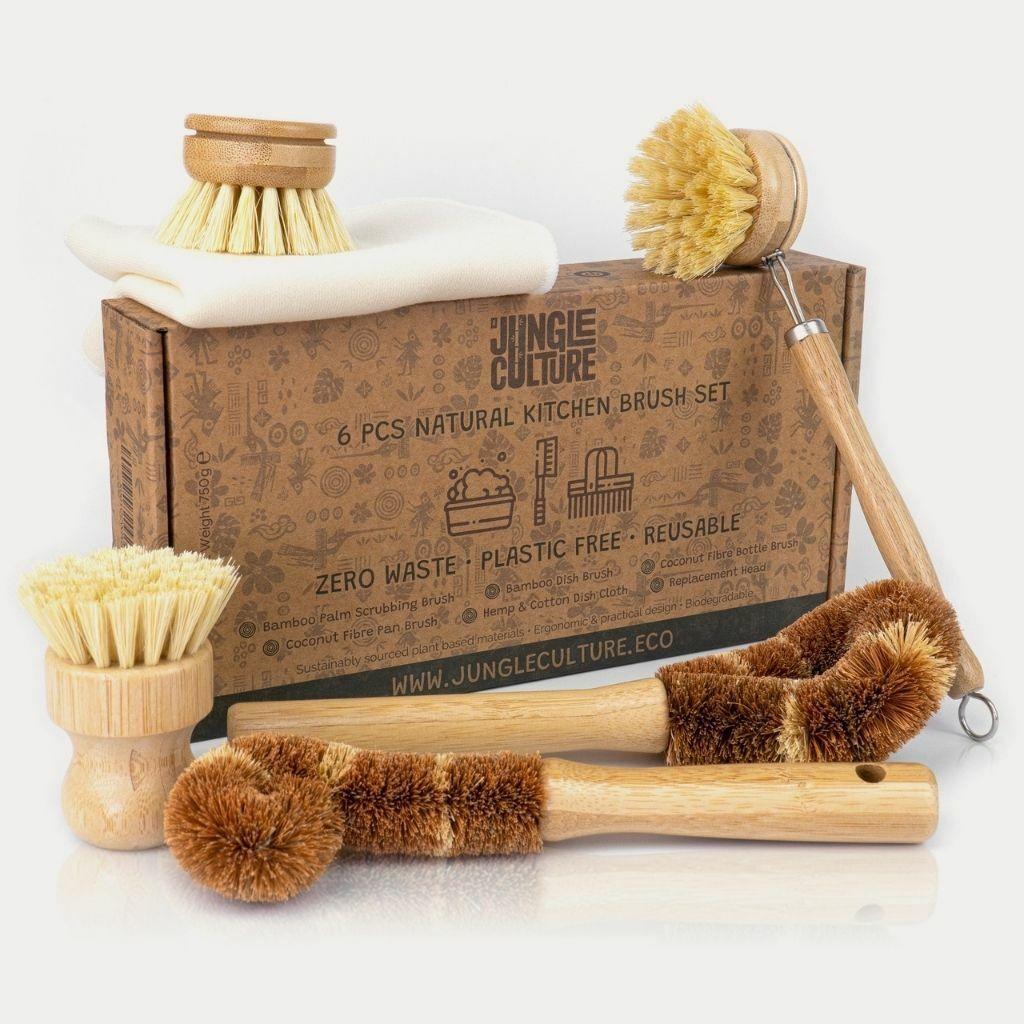 Natural Bamboo Dish Brush Set - Eco Plant Based Washing Up Brushes, 100% Plastic-Free by Jungle Culture
Jungle Culture's eco bamboo dish brushes for washing up are crafted using sustainable bamboo and natural plant based fibres from coconut husks and the sisal plant. The 6 piece zero waste wooden kitchen dish brush set contains a versatile and multi-functional array of plastic-free household cleaning brushes and cloths. Everything you need to keep your home clean, tidy and sustainable.
Wooden kitchen cleaning brushes are 100% organic, vegan friendly and biodegradable. The perfect zero waste alternative to flimsy single-use plastic dish brushes and synthetic washing up cloths.
The natural coarseness of our sisal and coconut fibre brushes provide an elegant, ergonomic and guilt-free way to scour and scrub your pots, pans and trays, while our organic hemp and cotton fibre cleaning cloths are perfect for gently washing up fragile glassware.
Set Contains:
1 x Bamboo palm zero waste scrubber brush
1 x Plastic-free bamboo dish brush
1 x Coconut fibre bottle brush
1 x Coconut fibre eco pan scourer brush
1 x Replacement head for bamboo pot scrubber brush
1 x Hemp & organic cotton dish cloth sponge
100% Natural dish brush set: Eco-friendly & zero waste alternative to plastic and metal kitchen cleaning products.
Complete set: Jungle Culture's plastic-free cleaning brush set contains everything you need to keep your home clean, tidy and plastic-free.
Versatile & Multi-functional: We include coarse and thick bristles for scouring and scrubbing stubborn pots and pans as well as a soft hemp and cotton cloth for gentle cleaning.
Vegan friendly & Biodegradable: Our bamboo, coconut and sisal products are farmed and harvested sustainably, without the need for pesticides or animal products. Meaning that your zero waste kitchen brush set can be recycled or composted when it's time to throw it away.
Plastic-free & Zero waste: Our entire sustainable washing up set is plastic-free and zero waste. Even our packaging is made from recycled kraft paper!
More Information
Care Guide:
To ensure that your eco-friendly dish brush set lasts as long as possible, please read the following care instructions:
- Before first use, rinse your brushes through with dish soap and warm water.
- Try not to let your kitchen brushes or cleaning cloths soak for a long time after use as this will cause the natural fibres to deteriorate.
- After cleaning a particularly tenacious pot or pan, rinse your washing up brush with dish soap and warm water until the water runs clear.
- Store upright so that dirty water cannot accumulate.
Delivery Information
All orders are carefully shipped from sunny Brighton, in East Sussex, on the Southern coast of England, UK.
All UK orders only £1.95 delivery
When you have made your purchase our team will endeavour to dispatch your goods as quickly as possible. In most cases, we aim to dispatch your order within 1-2 working days of receiving it. The delivery providers we use are Royal Mail, Hermes and DHL, chosen based on your exact address, parcel size and weight. It is within our discretion to select the best service for your parcel and sometimes we use other couriers if need be. Postage UK-wide is capped at the low price of £1.95, regardless of order size.
For all EU and (and now) USA orders, regardless of size postage is set to £14.99. We ship all across Europe with a range of different couriers. We ship all across USA with USPS.
Outside of the UK, EU and USA? No problem!
Additionally, we ship worldwide. Every international order is weighed and priced individually and we only charge our customers what it costs us to send, nothing more. We use a wide range of couriers for worldwide delivery, but prioritise Royal Mail, DHL, Parcelforce or DPD.

Important please note: When placing an order to be delivered outside of the UK/EU/USA, we will be in touch after you complete your order to accurately calculate your delivery costs. Delivery costs will need to be paid in full before your order can be dispatched.