Mayu Swirl - Vortex Water Energiser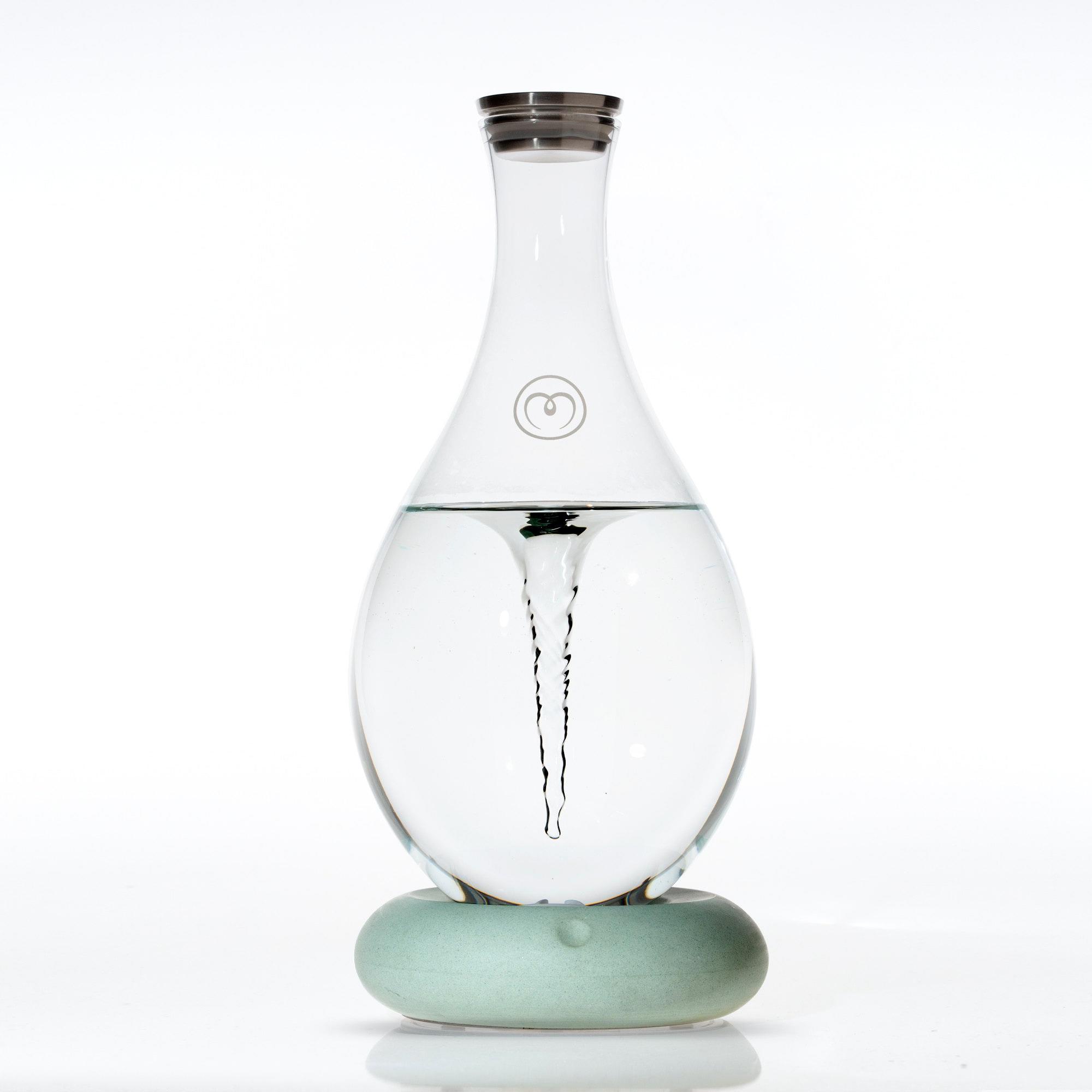 Mayu Swirl - Vortex Water Energiser
Enhance your water with a swirl
Like drinking from a flowing live stream or river, the swirling motion of the Mayu Swirl pitcher naturally ennobles all water that is automatically spun inside it. It aerates the water, replenishes dissolved oxygen, balances pH levels and improves hydratability, structure and even taste.
It doesn't matter if you're using unfiltered tap water, filtered water, Reverse Osmosis, spring water or distilled water - the Mayu Swirl will positively enhance the physical and chemical characteristics of your drinking water!
Appearance of base and carafe lid may vary.
USUAL PRICE: £184.99  SALE PRICE: £123.99
More Information
Perfect-Vortex Technology
The porcelain base is the vortex generator. It uses solid-state load cells that sense the presence of the carafe in order to begin the swirling motion automatically; in turn, it calibrates the strength and speed of the aerator disc, according to the amount of water in the carafe, thus creating a constant and perfect vortex.
The Carafe
Our hand-blown glass carafe is light-weight, and crystal clear. Made of grade-A tempered borosilicate glass the carafe is dishwasher safe. It is manufactured in an ISO 90001 factory.
The water-drop shape design eliminates stagnating zones in the carafe to ensure all the water flows freely.
A 1.5-liter (51 Oz) mark is engraved on the side of the carafe to help you accurately measure your water.
The built-in magnetic impeller is coated with food grade, BPA free high-end TPE.
Once the aeration process is done, close the carafe with a stainless steel (304) lid, which comes with a food-grade silicone seal.
The Base
The design of the base was inspired by a pebble stone found at the bottom of a flowing river.
Made out of pure Jingdezhen porcelain coloured with natural mineral colorants, you simply gently tap the grooved feature-like touch sensor to turn it on/off.
When charged, enjoy up to 7 hours of wireless use.
In The Box
1.5L glass carafe with built-in impeller- hand-blown grade A borosilicate glass; light weight, crystal clear and dishwasher safe. 
Closing lid for storage - made of stainless steel (304) or bamboo with a food-grade silicone seal. 
Vortex generator base - hand made porcelain, coupled with automatic load and touch sensors for a perfect, hassle-free vortex. 
Rechargeable li-ion battery - up to 7hours of wireless use on a single charge. 
USB magnetic tip charger – easy to connect| Power: 5V --- 1A. 
Plug:USB typeA 
Power:5V --- 1A 
Cord Length:50 inches (1.27m) 
Volume:1.5Lto the marked fill line 
Weight:30.9 oz(875 g) 
Height:12.6" (320mm) 
Diameter:5.5" (140mm) 
Material: Pureporcelain base with a stainless steel (304) bottom. Hand blown grade-Aborosilicate glass with a built-in magnetic impeller, TPE coated, and naturalbamboo or stainless steel (304) lid. Product Certifications:ETL certified, CE certified, FCC compliance
Delivery Information
All orders are carefully shipped from sunny Brighton, in East Sussex, on the Southern coast of England, UK.
All UK orders only £1.95 delivery
When you have made your purchase our team will endeavour to dispatch your goods as quickly as possible. In most cases, we aim to dispatch your order within 1-2 working days of receiving it. The delivery providers we use are Royal Mail, Hermes and DHL, chosen based on your exact address, parcel size and weight. It is within our discretion to select the best service for your parcel and sometimes we use other couriers if need be. Postage UK-wide is capped at the low price of £1.95, regardless of order size.
For all EU and (and now) USA orders, regardless of size postage is set to £14.99. We ship all across Europe with a range of different couriers. We ship all across USA with USPS.
Outside of the UK, EU and USA? No problem!
Additionally, we ship worldwide. Every international order is weighed and priced individually and we only charge our customers what it costs us to send, nothing more. We use a wide range of couriers for worldwide delivery, but prioritise Royal Mail, DHL, Parcelforce or DPD.

Important please note: When placing an order to be delivered outside of the UK/EU/USA, we will be in touch after you complete your order to accurately calculate your delivery costs. Delivery costs will need to be paid in full before your order can be dispatched.