Magnesium - Food Grown (Optimal Absorption) by Wild Nutrition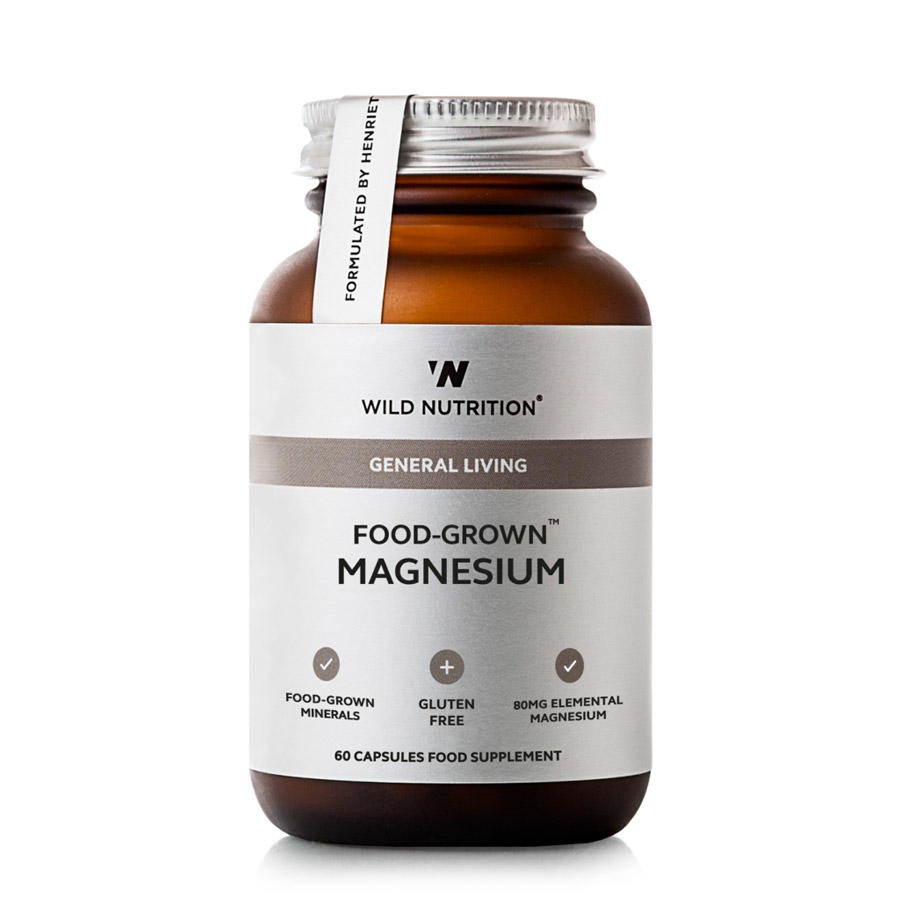 Magnesium - Food Grown (Optimal Absorption) by Wild Nutrition
Wild Nutrition Food-Grown® Magnesium is for all the family, providing 80mg (in two capsules) of elemental Magnesium to support energy and the nervous system for the day time. It is commonly used as a 'soothing and calming' mineral in the evening or before bedtime. It is essential for healthy mood, bones and teeth. For busy people and support during challenging times.Our Magnesium is in a highly bioavailable form meaning that mega-dosing becomes unnecessary. Magnesium is needed for a healthy nervous system, energy production and psychological function and is therefore known as 'natures tranquilliser'. It is estimated that up to 70% of western women are deficient in this key mineral.
Ingredients: Lactobacillus bulgaricus providing Magnesium, Vegetable Cellulose (capsule shell).
See below for more information about this product
More Information
The Food Grown process:
Step One: We take fresh, whole food ingredients and reduce them into a concentrated paste of whole goodness. All aspects of food provide us with benefits and so we leave nothing out - pulp, zest, pips n' all. Which food we use depends on the nutrient we wish to grow. For example, we choose citrus fruits for Vitamin C or carrot concentrate for Beta Carotene. All our starting ingredients come from sources that we know and trust. All our ingredients are stringently checked to ensure they do not contain any traces of pesticides or herbicides – in other words all but certified organic.
Step Two: Once we have our nutritious food paste, we then gently feed and enrich it with the optimum amount of added vitamins and minerals. The vitamin or mineral that we grow is cleverly attached to a naturally occurring protein (called a glycoprotein) that the food recognises and allows into its matrix – the part of the food that does all the clever metabolising. This is done very carefully and considerately, paying attention to add just the right amount, not over saturating the food. This introduction of the mineral salt occurs at the natural 'budding' process of the food cell when the food is at it's most receptive.
Step Three: During this time the food metabolizes and re-natures the vitamin or mineral, binding it to its co-factors. These 'co-factors' (such as lipids, proteins and antioxidants SOD and beta glucans) are so closely bonded that the nutrient can no longer be divided into its separate parts, just as it would be found in a food or plant cell. This process is not forced nor heated at any stage, allowing the metabolization to occur at the same rate it would naturally and without the addition of any processing chemicals, just purified water. In fact no temperatures above 32.5 degrees Celsius are used throughout the entire Food-Grown® process, guaranteeing that the 'co-factors' are kept in tact. As a result our finished product is classified as 'raw' nutrient rich food.
Delivery Information
All orders are carefully shipped from sunny Brighton, in East Sussex, on the Southern coast of England, UK.
All UK orders only £1.95 delivery
When you have made your purchase our team will endeavour to dispatch your goods as quickly as possible. In most cases, we aim to dispatch your order within 1-2 working days of receiving it. The delivery providers we use are Royal Mail, Hermes and DHL, chosen based on your exact address, parcel size and weight. It is within our discretion to select the best service for your parcel and sometimes we use other couriers if need be. Postage UK-wide is capped at the low price of £1.95, regardless of order size.
For all EU and (and now) USA orders, regardless of size postage is set to £14.99. We ship all across Europe with a range of different couriers. We ship all across USA with USPS.
Outside of the UK, EU and USA? No problem!
Additionally, we ship worldwide. Every international order is weighed and priced individually and we only charge our customers what it costs us to send, nothing more. We use a wide range of couriers for worldwide delivery, but prioritise Royal Mail, DHL, Parcelforce or DPD.

Important please note: When placing an order to be delivered outside of the UK/EU/USA, we will be in touch after you complete your order to accurately calculate your delivery costs. Delivery costs will need to be paid in full before your order can be dispatched.