Icelandic Glacial Spring Water in 750ml Glass Bottle - Carbon Neutral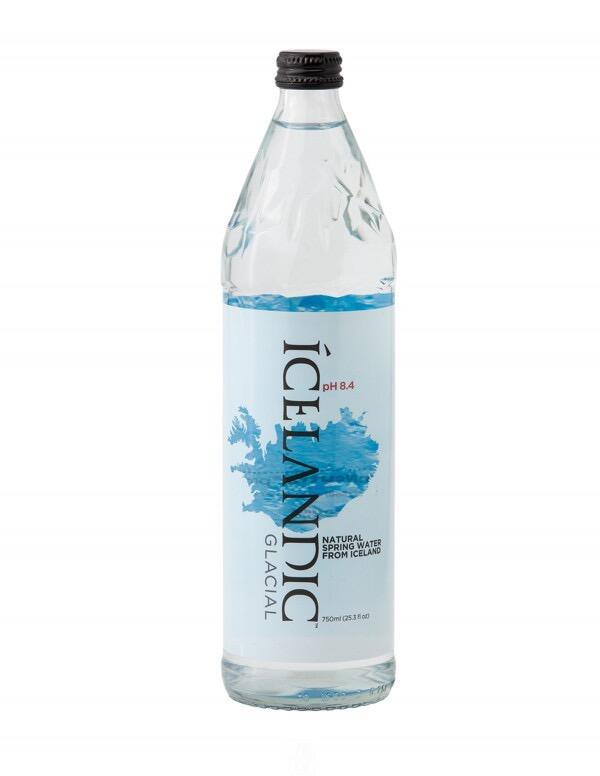 Icelandic Glacial Spring Water in 750ml Glass Bottle - Carbon Neutral
Probably the best bottled spring water in the World. Filtered slowly for 5,000 years through layers of lava rock, Icelandic Glacial spring water possesses a highly desirable and uncommonly high pH of 8.4, making it naturally alkaline. The legendary Ölfus Spring is a vast underground renewable resource formed over 5000 years ago. It sits in the middle of a 128,000- acre exclusion zone protecting the spring and its surrounding area. It is shielded by an impenetrable barrier of lava rock resulting in a naturally occurring low mineral content (TDS) of 62ppm. It is continually replenished by rain, snow and ice melt coming from the mountains in the north. Water travels directly from the underground spring into the bottling facility under a positive air pressure to impede the outside air. The first time Icelandic Glacial encounters the open air is when the bottle seal is broken. This highly-unique superior, hydrating water does not crowd the palate with heavy metals, minerals or silica. A water so pure, nothing is added or taken away. 
Icelandic Glacial Spring Water is also the world's first bottled water to be certified as CarbonNeutral® for both product and operation.
Delivery Information
All orders are carefully shipped from sunny Brighton, in East Sussex, on the Southern coast of England, UK.
All UK orders only £1.95 delivery
When you have made your purchase our team will endeavour to dispatch your goods as quickly as possible. In most cases, we aim to dispatch your order within 1-2 working days of receiving it. The delivery providers we use are Royal Mail, Hermes and DHL, chosen based on your exact address, parcel size and weight. It is within our discretion to select the best service for your parcel and sometimes we use other couriers if need be. Postage UK-wide is capped at the low price of £1.95, regardless of order size.
For all EU and USA orders, regardless of order size, postage is set to £14.99. We ship all across Europe with a range of different couriers. We ship all across USA with USPS and Fedex.

For Canada, regardless of order size, our shipping rate is only £19.99
Outside of the UK, EU and USA and Canada? No problem!
Additionally, we ship worldwide. Every international order is weighed and priced individually and we only charge our customers what it costs us to send, nothing more. We use a wide range of couriers for worldwide delivery, but prioritise Royal Mail, DHL, Parcelforce or DPD. Please note, for certain Middle Eastern countries, we can only deliver to P.O box addresses.

Important please note: When placing an order to be delivered outside of the UK/EU/USA/CANADA, we will be in touch after you complete your order to accurately calculate your delivery costs. Delivery costs will need to be paid in full before your order can be dispatched.