Hyaluronic Acid - Highest Bioavailability by Wild Nutrition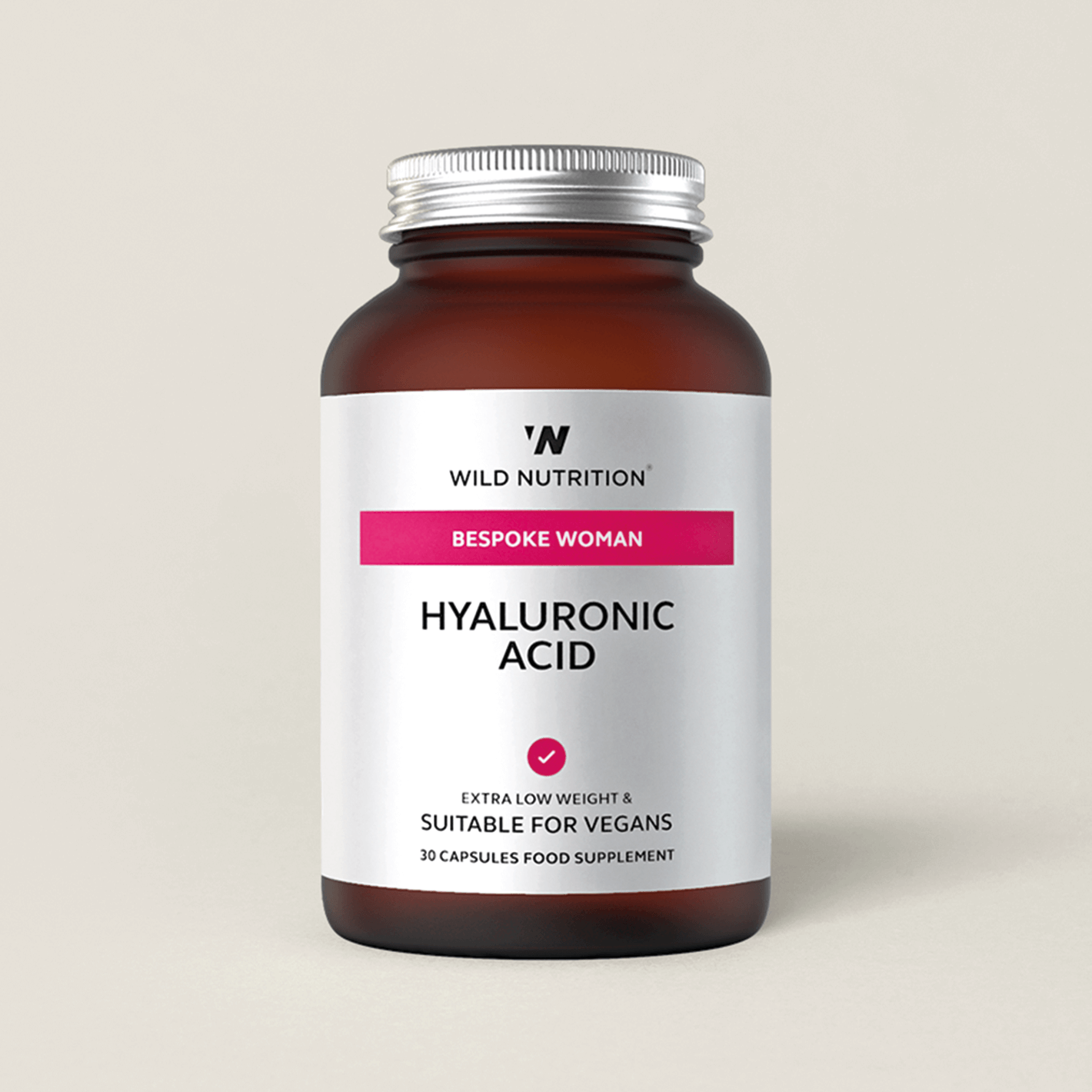 Hyaluronic Acid - Highest Bioavailability by Wild Nutrition
Extra Low Molecular Weight Hyaluronic Acid by Wild Nutrition for highest absorbability into skin and connective tissue - 30 Capsules.

1 capsule per day with, or without food.

Our award winning, extra low weight hyaluronic acid, clinically proven to reach the skin surface. Found naturally in skin and connective tissue, it is used to retain water within the second layer of the skin. Hyaluronic acid when present in the body supports skin looking soft and supple. Hyaluronic acid levels decline over the age of 40 and supplementation may be supportive for mature skin, however Hyaluronic Acid also has excellent value for young sensitive skin, wrinkle-prone skin or sun-damaged skin.
See below for more information about this product and read my article HERE
More Information
Hyaluronic acid is naturally found in the skin, connective tissue, cartilage, backbones and the synovial fluid around the joints. It is used to retain water within the second layer of the dermis helping it to stay supple and soft, as well as reducing inflammation on the skin's surface. The body's own supply of HA (hyaluronic acid) declines as we progress through life, especially over the age of 50, increasing the need to get it from outside sources. However it can be used at any age by both women and men. Ideal for less 'plump', dry or wrinkle-prone skin, skin prone to acne and those exposed to the damage to skin from 'modern living'. Both in vitro and in vivo tests have confirmed the stability of our extra low weight HA once when exposed to digestive enzymes once ingested. The extra low molecular weight of our HA promotes superior bioavailability and distribution to body tissues. The fermentation process used to produce our unique Hyaluronic Acid makes it suitable for those following a vegetarian or vegan diet. Ingredients: Hyaluronic Acid and yeast protein; Vegetable Cellulose (capsule shell).
Delivery Information
All orders are carefully shipped from sunny Brighton, in East Sussex, on the Southern coast of England, UK.
All UK orders only £1.95 delivery
When you have made your purchase our team will endeavour to dispatch your goods as quickly as possible. In most cases, we aim to dispatch your order within 1-2 working days of receiving it. The delivery providers we use are Royal Mail, Hermes and DHL, chosen based on your exact address, parcel size and weight. It is within our discretion to select the best service for your parcel and sometimes we use other couriers if need be. Postage UK-wide is capped at the low price of £1.95, regardless of order size.
For all EU and USA orders, regardless of order size, postage is set to £14.99. We ship all across Europe with a range of different couriers. We ship all across USA with USPS and Fedex.

For Canada, regardless of order size, our shipping rate is only £19.99
Outside of the UK, EU and USA and Canada? No problem!
Additionally, we ship worldwide. Every international order is weighed and priced individually and we only charge our customers what it costs us to send, nothing more. We use a wide range of couriers for worldwide delivery, but prioritise Royal Mail, DHL, Parcelforce or DPD. Please note, for certain Middle Eastern countries, we can only deliver to P.O box addresses.

Important please note: When placing an order to be delivered outside of the UK/EU/USA/CANADA, we will be in touch after you complete your order to accurately calculate your delivery costs. Delivery costs will need to be paid in full before your order can be dispatched.