Gold Standard Shower Filter by Aquasana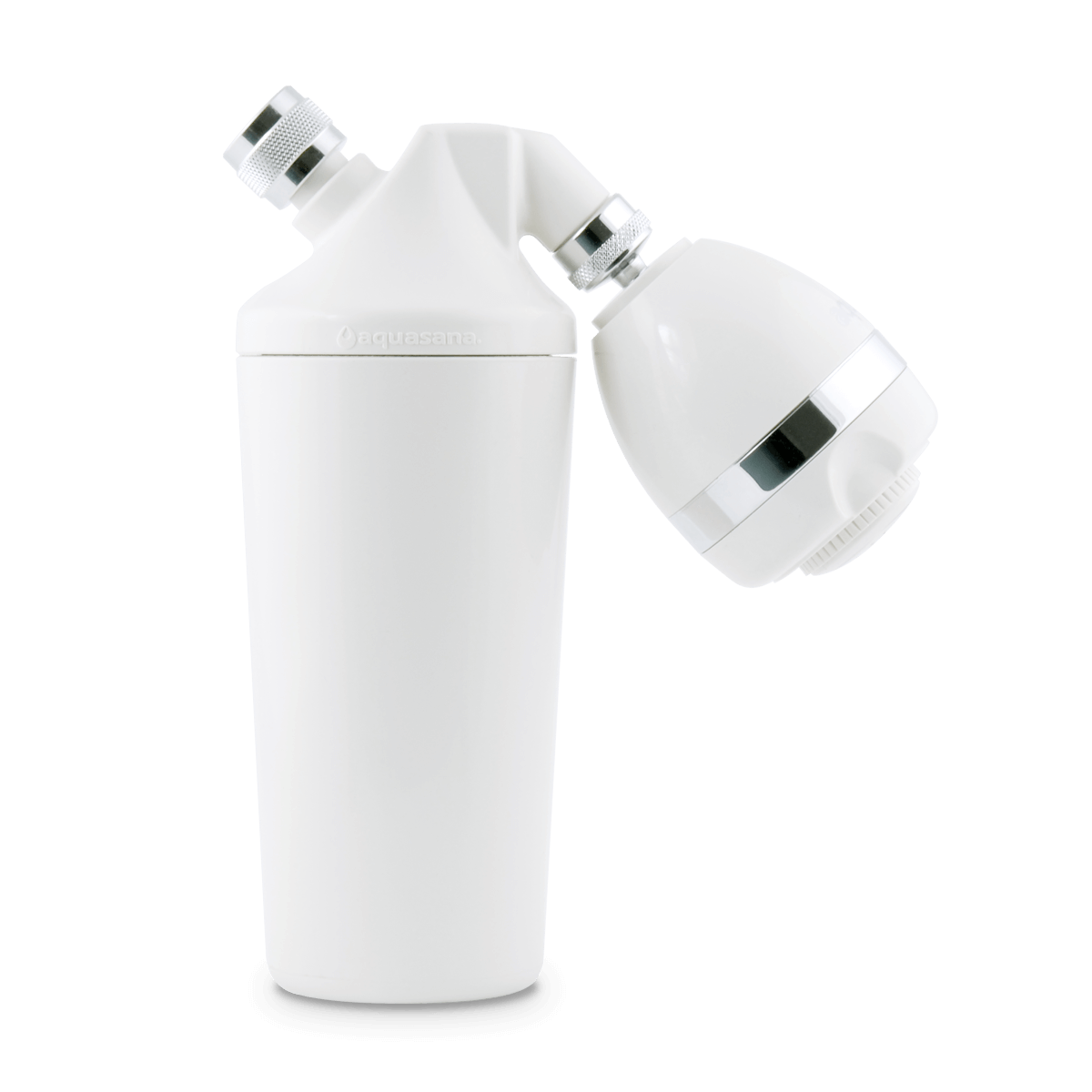 Gold Standard Shower Filter by Aquasana
Two Stage Filtration System
Using natural filtration process to purify water
The Aquasana Shower Filter uses a dual-stage filtration process using nature's finest materials; copper, zinc and coconut shell to remove over 90% of chlorine as well as other synthetic chemicals for the healthiest and purest shower experience possible.
The Aquasana Shower Filter uses a unique "upflow system" where water enters through a central cavity and then through pressure is pushed through the filtration material. This ensures consistent pressure and flow.
Stage One - water flows through a granular copper/zinc media for the reduction of chlorine and to enhance pH balance.
Stage Two - a high grade of coconut shell carbon is used for the reduction of synthetic chemicals that can vaporize and be inhaled with steam while showering.
The Aquasana Shower Filter features a unique 'up-flow design' which prevents media channeling, clogging and/or decreased water pressure. The simplistic design not only ensure water pressure is consistent, it also makes the Aquasana Shower Filter very easy to install and maintain. Anyone can install the unit, and only takes minutes.
It is ideal to replace the filter cartridges once every 6 months for best results. To change the filter, the bottom section simply unscrews and the filter can be switched and screwed back on.
More Information
Why Use a Shower Filter?
Minimise exposure to chlorine & harmful chemicals
Showering in warm or hot water opens the pores of the skin and allows a high rate of absorption of chlorine and other chemicals into the body. Not only do we absorb these chemicals through the pour of our skin but also through the steam we breathe in during showering. In fact, the steam we inhale while showering can contain up to 20 x the level of chlorine and other synthetic chemicals than tap water. This is because these toxic chemicals found in tap water vaporize at lower temperatures and at a much faster rate than water. It is this toxic combination of both inhalation and skin exposure that has such a negative impact on our body. A report by the American Journal of Public Health found that "up to 2/3 of the harmful exposure [to chlorine] was due to skin absorption and inhalation while showering".
Notice the Difference on the Inside & Out!
Help to treat dry skin, acne & more skin conditions
Chlorine dries the skin out and sunsequently causes sebaceous glands to overproduce sebum (oil) which can clog pores and cause breakouts and acne causing bacteria. This "drying out" of the skin can cause irritation, redness and sensitivity resulting in or inflaming psoriasis or eczema. By reducing the skin's exposure to chlorine and chemicals, you skin will be more moisturised and less irritated.
Improve the health of your hair
Aquasana Shower Filter Hair Health
The structure of hair is extremely vulnerable to drying out as chlorine and chemicals remove the the natural sebum (oil) out of the hair cuticle.
By drastically reducing the hairs exposure to chlorine and chemicals the hair is naturally able to produce sebum for the long term resulting in improved hair moisture.
Showering in filtered water will also help in treating dandruff.
Ease asthma & breathing conditions
Inhalation of chlorine and chemical vapors is known to be a strong irritant to the tissues in our lungs and is suspected to be a leading cause of asthma and bronchitis.
When chemicals are inhaled into our lungs, they enter directly into our bloodstream and the adverse effects are magnified, compared to ingested chemicals which are partially filtered out by the liver and kidneys.
Delivery Information
All orders are carefully shipped from sunny Brighton, in East Sussex, on the Southern coast of England, UK.
All UK orders only £1.95 delivery
When you have made your purchase our team will endeavour to dispatch your goods as quickly as possible. In most cases, we aim to dispatch your order within 1-2 working days of receiving it. The delivery providers we use are Royal Mail, Hermes and DHL, chosen based on your exact address, parcel size and weight. It is within our discretion to select the best service for your parcel and sometimes we use other couriers if need be. Postage UK-wide is capped at the low price of £1.95, regardless of order size.
For all EU and (and now) USA orders, regardless of size postage is set to £14.99. We ship all across Europe with a range of different couriers. We ship all across USA with USPS.
Outside of the UK, EU and USA? No problem!
Additionally, we ship worldwide. Every international order is weighed and priced individually and we only charge our customers what it costs us to send, nothing more. We use a wide range of couriers for worldwide delivery, but prioritise Royal Mail, DHL, Parcelforce or DPD.

Important please note: When placing an order to be delivered outside of the UK/EU/USA, we will be in touch after you complete your order to accurately calculate your delivery costs. Delivery costs will need to be paid in full before your order can be dispatched.