Ghanian Unrefined Shea Butter, Certified Organic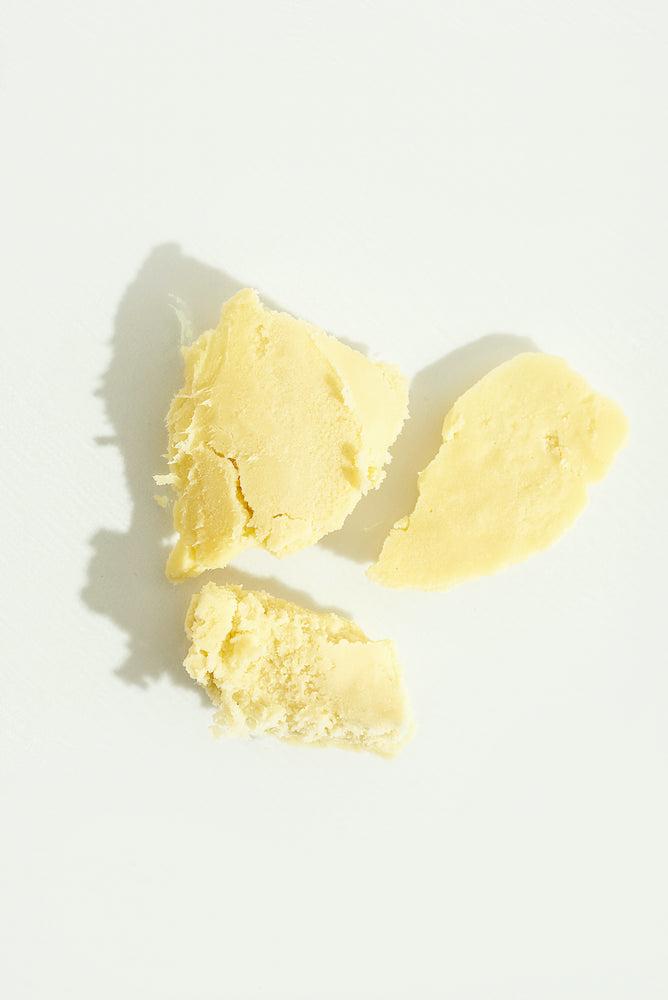 Ghanian Unrefined Shea Butter, Certified Organic
Enjoy our highest quality, luxuriant, completely unrefined Ghanian shea butter, made entirely from certified Soil Association Organic shea nuts. Renowned for its health benefits, shea butter has been used by Africans for thousands of years. It is unusual from other cosmetic products in that it actually encourages your skin to absorb moisture from the air ensuring that your skin becomes softer and stays moisturised for longer. Regular use of Shea Butter promotes softer, smoother, healthier skin, from your hands to your toes, and everything in between.
Our Shea Butter naturally contains vitamin A and E. Vitamin A is important for improving a number of skin conditions, including, blemishes, wrinkles, eczema, and dermatitis. Vitamin E is a common anti-ageing ingredient that protects your skin.
What is the source of our Shea Butter Organic Unrefined?
Shea butter comes from the Karite tree, also known as "women's gold". This tree grows in the Savannah regions of West Africa from Senegal in the west to Sudan in the east and onto the foothills of the Ethiopian highlands.
More Information
Who should use our Shea Butter Organic Unrefined?
Our Shea Butter is suitable for a variety of skin types. Try replacing your current jar of skin cream with our product and see the difference. Keep a jar in your medicine cabinet, it can also be used to soothe the minor skin injuries that occur during daily life.
What can you use our Shea Butter Organic Unrefined for?
Our Shea Butter can be used to help ease a variety of skin conditions, including eczema, dermatitis, psoriasis, minor skin irritations, extreme dryness or toughness, stretch mark, burns, cuts and small skin wounds, sunburn, insect bites, ageing marks, fungal infections, scars, dandruff and many more.
It can also help protect against extreme cold weather and even protect your muscles before and after strenuous exercise.
Delivery Information
All orders are carefully shipped from sunny Brighton, in East Sussex, on the Southern coast of England, UK.
All UK orders only £1.95 delivery
When you have made your purchase our team will endeavour to dispatch your goods as quickly as possible. In most cases, we aim to dispatch your order within 1-2 working days of receiving it. The delivery providers we use are Royal Mail, Hermes and DHL, chosen based on your exact address, parcel size and weight. It is within our discretion to select the best service for your parcel and sometimes we use other couriers if need be. Postage UK-wide is capped at the low price of £1.95, regardless of order size.
For all EU and (and now) USA orders, regardless of size postage is set to £14.99. We ship all across Europe with a range of different couriers. We ship all across USA with USPS.
Outside of the UK, EU and USA? No problem!
Additionally, we ship worldwide. Every international order is weighed and priced individually and we only charge our customers what it costs us to send, nothing more. We use a wide range of couriers for worldwide delivery, but prioritise Royal Mail, DHL, Parcelforce or DPD.

Important please note: When placing an order to be delivered outside of the UK/EU/USA, we will be in touch after you complete your order to accurately calculate your delivery costs. Delivery costs will need to be paid in full before your order can be dispatched.