Food-Grown Active Vitamin D - (D3) by Wild Nutrition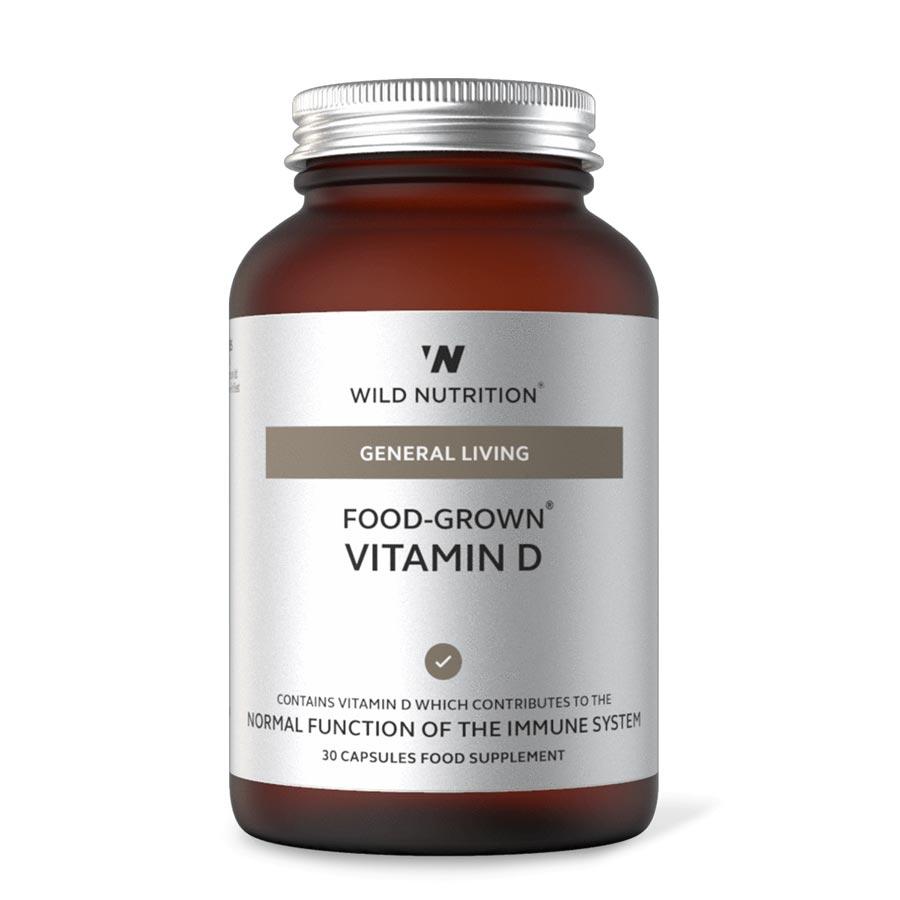 Food-Grown Active Vitamin D - (D3) by Wild Nutrition
Food Grown "Active" Vitamin D3, in the most bioavailable form 1-25 form (calcifediol) , by Wild Nutrition - 30 Capsules.
Supercharge your defence system with our biologically active form of Vitamin D3. Public Health England recommends supplementation of Vitamin D to support a strong immune system and reduce symptoms of Seasonal Affective Disorder (SAD). Research shows low levels of Vitamin D are linked to low mood and Seasonal Affective Disorder (SAD). Public health advice recommends supplementation for all during autumn and winter. Research shows low levels of Vitamin D are linked to disturbed sleep, insomnia or waking unrefreshed as Vitamin D is critical to optimise our natural sleep-waking cycles. Increases calcium absorption to support healthy bones and teeth, as well as muscle function.
We never use... Added fillers or binders Artificial preservatives or colourings Wheat, gluten, rye, oats or corn Synthetic nutrients Sugars GMO ingredients of any kind. Ingredients: Vitamin enhanced yeast providing; Vitamin D3, Heat treated brown rice powder, Vegetable Cellulose (capsule shell).
Delivery Information
All orders are carefully shipped from sunny Brighton, in East Sussex, on the Southern coast of England, UK.
All UK orders only £1.95 delivery
When you have made your purchase our team will endeavour to dispatch your goods as quickly as possible. In most cases, we aim to dispatch your order within 1-2 working days of receiving it. The delivery providers we use are Royal Mail, Hermes and DHL, chosen based on your exact address, parcel size and weight. It is within our discretion to select the best service for your parcel and sometimes we use other couriers if need be. Postage UK-wide is capped at the low price of £1.95, regardless of order size.
For all EU and USA orders, regardless of order size, postage is set to £14.99. We ship all across Europe with a range of different couriers. We ship all across USA with USPS and Fedex.

For Canada, regardless of order size, our shipping rate is only £19.99
Outside of the UK, EU and USA and Canada? No problem!
Additionally, we ship worldwide. Every international order is weighed and priced individually and we only charge our customers what it costs us to send, nothing more. We use a wide range of couriers for worldwide delivery, but prioritise Royal Mail, DHL, Parcelforce or DPD. Please note, for certain Middle Eastern countries, we can only deliver to P.O box addresses.

Important please note: When placing an order to be delivered outside of the UK/EU/USA/CANADA, we will be in touch after you complete your order to accurately calculate your delivery costs. Delivery costs will need to be paid in full before your order can be dispatched.