Eden Sunscreen Organic 100% Natural Zinc Oxide & Kakadu Plum (150ml)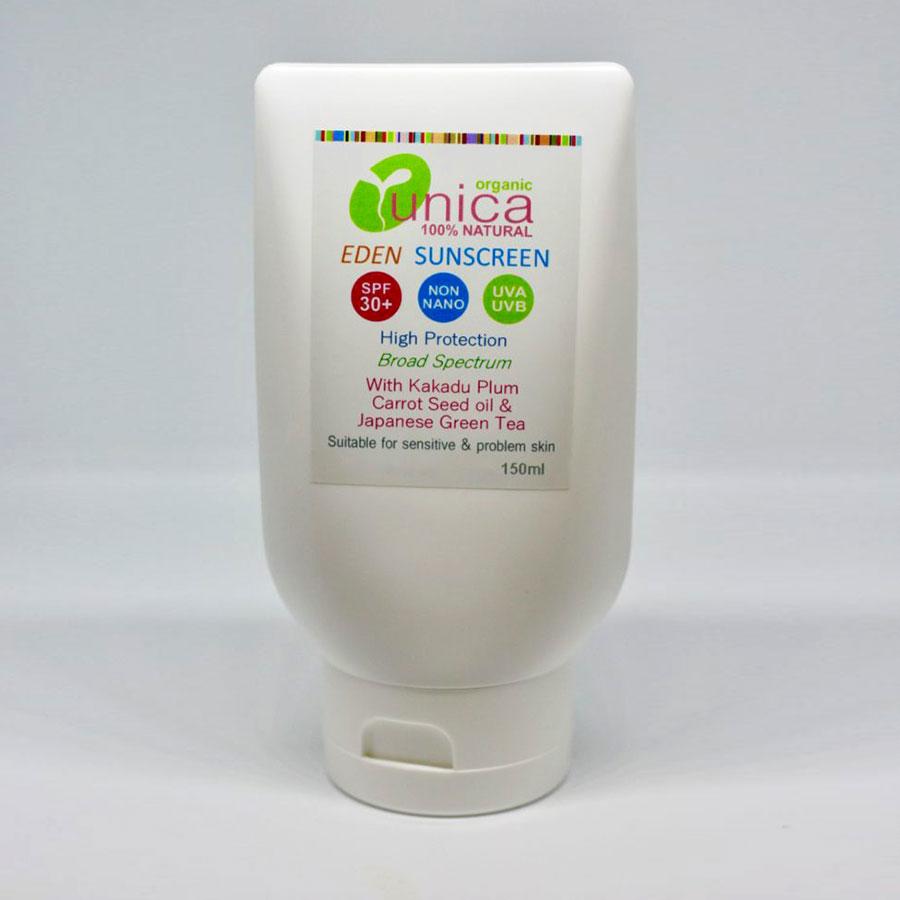 Eden Sunscreen Organic 100% Natural Zinc Oxide & Kakadu Plum (150ml)
Eden sunscreen is an organic and 100% natural sunscreen with cooling Zinc oxide, Kakadu plum extract, Japanese green tea and Carrot Seed oil which synergistically enhances sun protection. The purest sunscreen available. High Protection SPF 30+
Our sunscreens are formulated with Non-Nano uncoated zinc oxide as the physical barrier against UV rays. Zinc oxide is the same ingredient used in calamine lotions and in nappy rash products. It is a powdered mineral that sits on top of the skin reflecting and absorbing both UVA and UVB rays.
It's Natural & It's Non Nano! (View more details below)
More Information
Why we use Non-Nano zinc oxide?
In 2003 the UK government commissioned the Royal Society and the Royal Academy of Engineering to conduct independent research into developments in nanoscience and nanotechnologies, along with their impacts. Their 2004 report notes, 'If nanoparticles penetrate the skin they might facilitate the production of reactive molecules that could lead to cell damage...There is insufficient information about whether used in cosmetics (such as zinc oxide) penetrate the skin and there is a need for more research into this..."
More on nanoparticles from the National Resources Defence Council (NRDC), Nanotechnology's invisible Threat, December 2006, 'Once inside the body nanoparticles seem to have unlimited access to all tissues and org ans, including the brain and likely also the fetal circulation, and may cause cell damage that we don't yet understand...Current legislation fail to guarantee consumers that these new technologies are safe to use.' We think that this a risk not worth taking.
Our Eden organic sunscreen provides "Broad spectrum" protection, meaning that they offer protection from both UVB & UVA rays, without using questionable chemicals. Eden contain three awesome natural ingredients which synergistically enhance sun protection: Kakadu plum extract with an impressive content of Vitamin C, and extraordinary antioxidant and anti-inflammatory properties; Japanese Green Tea, another powerful antioxidant known for its anti-irritant properties and for preventing redness, rough skin and peeling caused by sun-drenched skin; Carrot seed oil, antioxidant, antiseptic, antiviral and with a massive natural SPF of around 35.
Eden organic sunscreen also contains natural and organic plant oils which nourish, sooth and rejuvenate your sun-exposed skin and, like Carrot Seed oil, also provide additional sun protection because of their natural SPF: Almond oil and Jojoba oil (SPF 4-6), Macadamia nut oil (SPF 6), Avocado oil (SPF 4-15), Shea Butter (SPF 6-8), Coconut oil (SPF 4-10). Naturally scented with Lavender essential oil.
Is your sunscreen whitening?
You should expect some whitening with any mineral-based sunscreens, unless it contains nano- particles.
In addition to using our sunscreens, we always recommend following the basic precautions against the harmful effects of the sun:
use an appropriate sunscreen wear appropriate clothes seek shade be aware of reflected sunlight (from water, snow, sand etc) avoid direct sun particularly during the hottest four hours of the day (11.00am to 3.00pm in the UK and 12.00noon to 4.00pm on the Continent). reapply sunscreen liberally and often And now you are ready to be sun-kissed. See you at the beach! x
SKIN TYPES: All skin types. Suitable for use on very sensitive and eczema prone skin and for children over 3 years old.
USE: Apply before sun exposure. Re-apply frequently during exposure and after swimming.
STORAGE: Cool place away from direct sunlight.
"A woman clothed with the sun, and the moon under her feet, and upon her head a crouwn of twelve stars" (Bible quotes)
ACTIVE INGREDIENT: Non-Nano Uncoated Zinc Oxide 15% (mineral UVA and UVB Filter) INGREDIENTS: Spring Water (aqua)*; Lavender (Lavandula angustifolia) water*; Shea (Butyrospermum parkii) butter*; Virgin Coconut (Cocos nucifera) oil*; Plant wax extract (Cetearyl Olivate, Sorbitan Olivate); Almond (Prunus dulcis ) oil*, Jojoba (Simmondsia Chinensis) oil*; Sunflower (Helianthus annuus) oil*; Avocado (Persea Gratissima) oil*; Macadamia (Macadamia Ternifolia seed) oil*; Vitamin E oil (Tocopherol); Rosmary (Rosmarinus Officinalis) extract; Kakadu plum (Vegetable Glycerin, Purified Water, Terminalia Ferdinandiana) extract*; Green Tea (Camellia sinensis)*; Carrot (Daucus Carota Sativa) seed oil*; Xanthan gum; Lavender (Lavandula angustifolia) essential oil*; Vegetable-based fragrance (Fragrance)**, Citral**, Geraniol**, Limonene**, Linalool**. *organic ingredients **from essential oils
STAR INGREDIENTS
Japanese Green Tea Jaanese Green Tea is a powerful antioxidant known for its anti-irritant properties and for preventing redness, rough skin and peeling cause by sun drenched skin. Thanks to its high concentration of naturally occurring compounds called poliphenols, which are very potent antioxidants agents, green tea have been found to reduce cell damage caused by exposure to ultraviolet radiation. Green tea appears to protect from sun damage by quenching free radicals and reducing inflammation and therefore enhances and extends the effectiveness of sunscreens and ameliorate adverse skin reaction following UV exposure. Furthermore, green tea has also been shown to have powerful anti-irritant, anti-inflammatory and anti-bacterial properties.
Carrot Seed oil Carrot Seed is fantastic revitalizing and toning skincare agent and considered one of the best essential oils for mature skin. Carrot seed oil also assists in removing toxins and water build up in the skin giving it a fresher more firmer appearance. Carrot seed oil has also a detoxifying effect on the liver and cleans the digestive system and the body as a whole. It is helpful for arthritis, gout, edema, rheumatism and the accumulation of toxins in muscles and joints. Carrot seed oil carrot also provides natural sun protection with a natural SPF around 35.
Kakadu Plum If you love natural skin care products, you need to know about kakadu plum, a potent fruit that has an intriguing past, present and future. Kakadu plum is a bright green fruit, native to Australia's Northern Territories where it grows wild in a harsh, arid environment. For millennia, this small fruit has been used by indigenous Aboriginal people of Australia for medicinal and dietary purposes. Today, it's still used in Aboriginal communities, but it's also finding its way into mainstream skin care thanks to its high levels of vitamins, antioxidants and nutrients. So what's so amazing about this fruit? 1.It's packed with vitamin C. Kakadu plums have evolved to produce the highest natural levels of vitamin C in the world, 3150 milligrams per 100 grams of fruit. To compare, oranges only contain 50 milligrams per 100 grams of fruit. That means kakadu plums have over 60 times the concentration found in oranges! Vitamin C is an antioxidant that protects your skin against free radicals caused by the sun. Your skin also uses vitamin C to produce collagen which promotes the growth of healthy new tissue. In turn, this may reduce the appearance of scars, cuts, sun spots, fine lines and wrinkles. In fact, when applied along with vitamin E, vitamin C has been shown to prevent sun damage in the first place. 2. It's nature's bacteria fighter.The kakadu plum contains gallic acid, an antioxidant with powerful antibacterial and antimicrobial propertie. gallic acid works to naturally kill bacteria, fungus and viral cells, which is great news if you suffer from acne. 3. It'll keep you wrinkle-free. Another component of the kakadu plum is ellagic adic, something recent studies have shown can reduce inflammation when applied to sun damaged skin. It also inhibits an enzyme that can cause the breakdown of collagen. Combined, these effects help to improve the elasticity of your skin, targeting the appearance of fine lines and wrinkles. An added bonus of ellagic acid? Preliminary studies have shown it has strong anti-cancer and antioxidant properties.
Shea Butter Shea butter is derived from the fat of the shea nut. Shea butter melts at body temperature and absorbs rapidly into the skin without leaving a greasy feeling. It contains the antioxidants, vitamins A and E both of which enhances skin cell regeneration and promote blood circulation below the skin's surface. Cinnamic acid in the oil provides vital protection against harmful UV rays. Its rich emollient quality makes it excellent for very dry skin. SPF 6-8. Macadamia oil Macadamia is known as the" king of nuts" and its oil is known to have almost the same properties as sebum. Sebum is the oil produced by our sebaceous glands to protect the skin from dryness and in a way makes skin and hair waterproof. Macadamia nuts provide vitamins, minerals and antioxidant fatty acids. Good sources of magnesium, iron, phosphorous, potassium and vitamin E, the oil from Macadamia nuts also contains a natural plant chemical called cinnamic acid which provides a variable SPF level of 6.
Coconut oil Coconut oil has an amazing ability to heal the skin and block the damaging effects of UV radiation from the sun. One of the reasons why it is so effective in protecting the skin is its antioxidant properties, which helps prevent burning and oxidative damage that promotes skin cancer. There have been several recent studies done on the use of coconut oil as a sunscreen but there are fluctuations in the SPF rating of coconut oil. One study "proved" a rating of only 4 while another rated coconut oil at a 10.
Avocado oil This fruit is highly regarded by the Aztecs of Mexico for its high nutritional content. Avocado oil is rich in vitamins A, B, D and E , fatty acids and lecithin. Avocado oil has quick-acting capacity to be absorbed by the skin tissue and provides the skin with emollients that can hydrate, nourish and regenerate the epidermis or the outer skin layer. Avocado oil has an SPF rating of 4-15
Jojoba oil Jojoba is a desert shrub effective for treating eczema, psoriasis and dry skin.Jojoba oil is more correctly described as liquid wax. Like Macadamia oil, the properties of jojoba oil are akin to that of human sebum or the skin's natural oil. As a sunscreen ingredient, jojoba oil not only provides natural moisturizers for the skin but also provides healing and anti-inflammatory elements through its natural substance called myristic acid. Myristic acid is a form of fatty acid naturally occurring in plant oils. This oil has an SPF rating of 4
Delivery Information
All orders are carefully shipped from sunny Brighton, in East Sussex, on the Southern coast of England, UK.
All UK orders only £1.95 delivery
When you have made your purchase our team will endeavour to dispatch your goods as quickly as possible. In most cases, we aim to dispatch your order within 1-2 working days of receiving it. The delivery providers we use are Royal Mail, Hermes and DHL, chosen based on your exact address, parcel size and weight. It is within our discretion to select the best service for your parcel and sometimes we use other couriers if need be. Postage UK-wide is capped at the low price of £1.95, regardless of order size.
For all EU and (and now) USA orders, regardless of size postage is set to £14.99. We ship all across Europe with a range of different couriers. We ship all across USA with USPS.
Outside of the UK, EU and USA? No problem!
Additionally, we ship worldwide. Every international order is weighed and priced individually and we only charge our customers what it costs us to send, nothing more. We use a wide range of couriers for worldwide delivery, but prioritise Royal Mail, DHL, Parcelforce or DPD.

Important please note: When placing an order to be delivered outside of the UK/EU/USA, we will be in touch after you complete your order to accurately calculate your delivery costs. Delivery costs will need to be paid in full before your order can be dispatched.