Contrast Detail Cotton and Natural Jute XL Bag by Westford Mill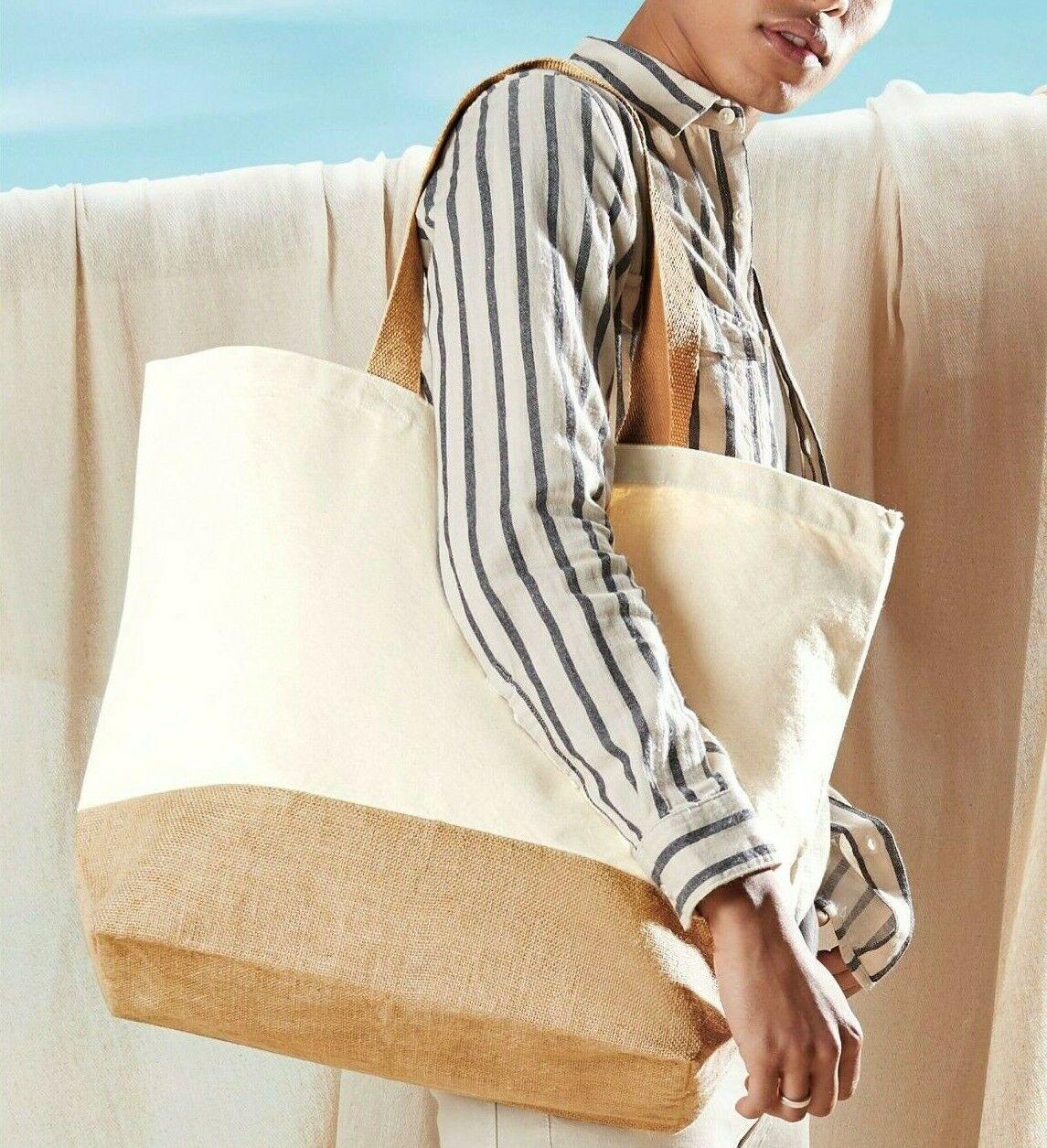 Contrast Detail Cotton and Natural Jute XL Bag by Westford Mill
A great bag for carrying all your essentials. With great styling and character you will look the part carrying this bag. Made from the highest quality materials with great detailing and finishing. XL size, carrying up to 29 litres in volume.
Features:
Print friendly canvas body
Premium heavyweight fabric
Large capacity
Cotton webbing carry handles
Can be carried by hand or over the shoulder
Handle length - 63cm
Dimensions: 38 x 44 x 18cm
Capacity: 29 litres
Jute base, Premium heavyweight fabric, Cotton webbing carry/shoulder straps (63cm long), Capacity 29 litres, 100% cotton canvas. 407gsm. 
Delivery Information
All orders are carefully shipped from sunny Brighton, in East Sussex, on the Southern coast of England, UK.
All UK orders only £1.95 delivery
When you have made your purchase our team will endeavour to dispatch your goods as quickly as possible. In most cases, we aim to dispatch your order within 1-2 working days of receiving it. The delivery providers we use are Royal Mail, Hermes and DHL, chosen based on your exact address, parcel size and weight. It is within our discretion to select the best service for your parcel and sometimes we use other couriers if need be. Postage UK-wide is capped at the low price of £1.95, regardless of order size.
For all EU orders, regardless of size postage is set to £14.99
Outside of the UK and the EU? No problem!
Additionally, we ship worldwide. Every international order is weighed and priced individually and we only charge our customers what it costs us to send, nothing more. We use a wide range of couriers for worldwide delivery, but prioritise Royal Mail, DHL, Parcelforce, DPD, Hermes and USPS for The States.

Important please note: When placing an order to be delivered outside of the UK/EU, we will be in touch after you complete your order to accurately calculate your delivery costs. Delivery costs will need to be paid in full before your order can be dispatched.