Cognitive Nootropic 8 Ingredient Formula by Kiki Health (60 Caps)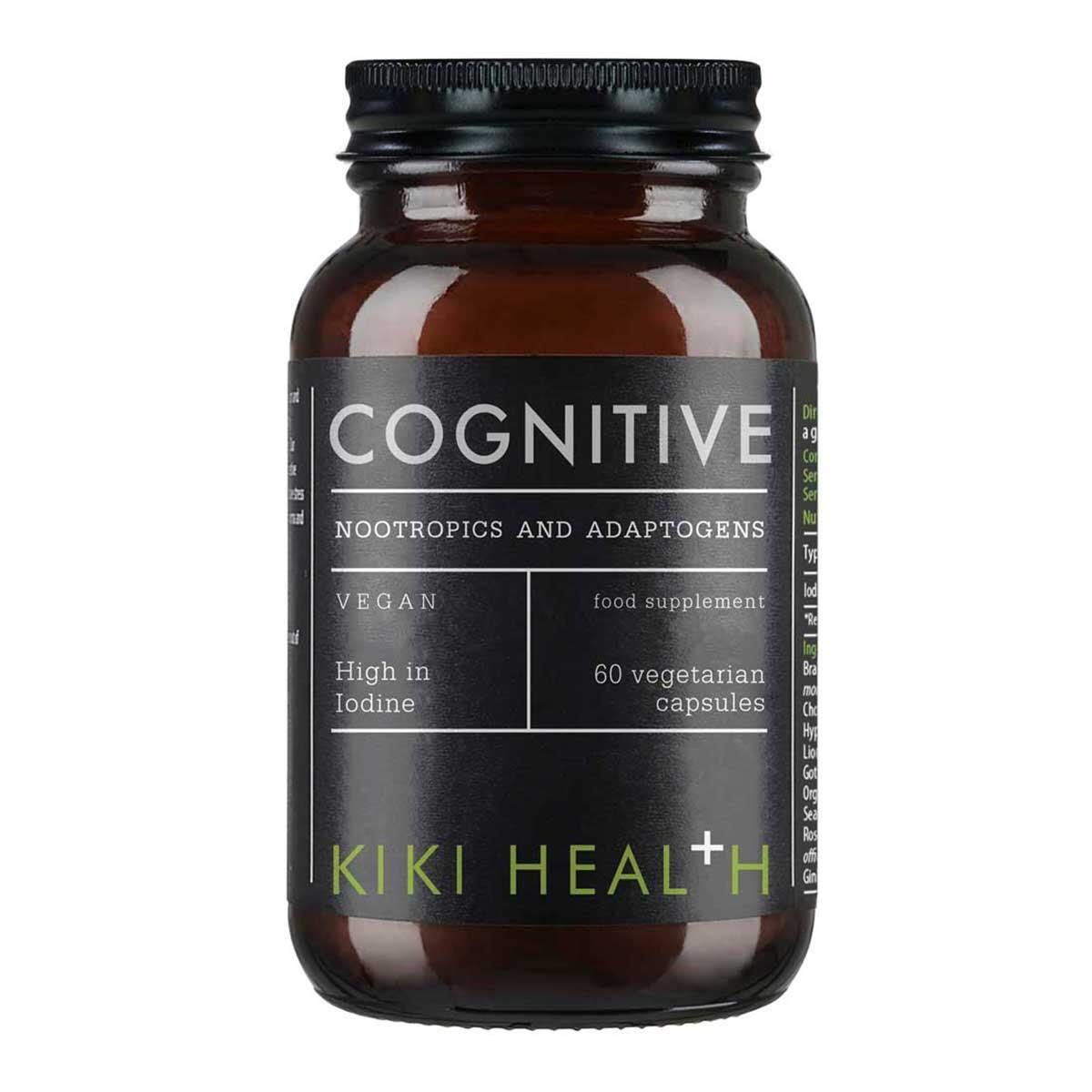 Cognitive Nootropic 8 Ingredient Formula by Kiki Health (60 Caps)
Our team of experts formulated this new blend of powerful ingredients that all contribute to supporting brain, memory, stress and mental performance.
Each ingredient was sustainably sourced from high quality suppliers to ensure purity and effectiveness.
This propriety new formula combining nootropics and adaptogens which support cognitive development.
In addition to Iodine from Sea Kelp, which supports cognitive and neurological function and is crucial for mental performance and activity, our Cognitive capsules also contain high quality extracts of Brahmi, Lion's Mane, Choline, Gotu Kola, and Gingko. Iodine further contributes to normal cognitive and neurological function, it plays an essential role in mental performance and activity.
These ingredients together support brain and mental function. 
Ingredients: Brahmi Extract (20% Bacosides) (Bacopa monnieri), Choline (L-Bitartrate), Lion's Mane Mushroom (Hericium erinaceus), Gotu Kola Extract (4:1) (Centella asiatica), Organic Cacao (Theobroma cacao), Sea Kelp (Ascophyllum nodosum), Rosemary Leaf Extract (10:1) (Rosmarinus officinalis), Ginkgo Leaf Extract (50:1)(Ginkgo biloba).
Adult intake 2 capsules daily with a your fave drink. 1 month supply.
More Information
Iodine
Supports the normal production of thyroid hormones and normal thyroid function Thyroid is the hormone that controls your body's metabolism, the process in which your body transforms the food you eat into energy.
Contributes to normal cognitive function Memory, language, vision, reconstruction, perception, attention, mental speed and executive processes are all examples of cognitive functions.
Iodine maintains normal skin Encourages healthy, bright skin
Iodine supports the normal energy-yielding metabolism Energy-yielding metabolism is needed for all functions and activities of the body, including physical activity and exercise
Iodine assists in the normal functioning of the nervous system Your nervous system serves as the command center for your body. It is controlled by your brain and governs your motions, thoughts, and automatic responses to the environment around you. It also regulates other physiological functions and processes like digestion, respiration, and sexual development (puberty).
Brahmi (Bacopa monnieri)
helps to improve memory and concentration
helps the maintenance of good cognitive function
helps to maintain memory with age decline and to preserve cognitive function
Gotu Kola (Centella asiatica)
Helps to maintain mental health, cognitive function and performance
Rosemary Leaf – (Rosmarinus officinalis) 
supports mental activity in overdemand and stress condition
helps to maintain a good mental condition
helps to obtain emotional comfort
Ginkgo Leaf (Ginkgo biloba)
helps to promote cognitive function
helps maintain stamina
contributes to normal blood circulation which is associated with brain performance
Delivery Information
All orders are carefully shipped from sunny Brighton, in East Sussex, on the Southern coast of England, UK.
All UK orders only £1.95 delivery
When you have made your purchase our team will endeavour to dispatch your goods as quickly as possible. In most cases, we aim to dispatch your order within 1-2 working days of receiving it. The delivery providers we use are Royal Mail, Hermes and DHL, chosen based on your exact address, parcel size and weight. It is within our discretion to select the best service for your parcel and sometimes we use other couriers if need be. Postage UK-wide is capped at the low price of £1.95, regardless of order size.
For all EU and USA orders, regardless of order size, postage is set to £14.99. We ship all across Europe with a range of different couriers. We ship all across USA with USPS and Fedex.

For Canada, regardless of order size, our shipping rate is only £19.99
Outside of the UK, EU and USA and Canada? No problem!
Additionally, we ship worldwide. Every international order is weighed and priced individually and we only charge our customers what it costs us to send, nothing more. We use a wide range of couriers for worldwide delivery, but prioritise Royal Mail, DHL, Parcelforce or DPD. Please note, for certain Middle Eastern countries, we can only deliver to P.O box addresses.

Important please note: When placing an order to be delivered outside of the UK/EU/USA/CANADA, we will be in touch after you complete your order to accurately calculate your delivery costs. Delivery costs will need to be paid in full before your order can be dispatched.