Ceramic Grater for Wasabi, Ginger, Horseradish, Garlic and Turmeric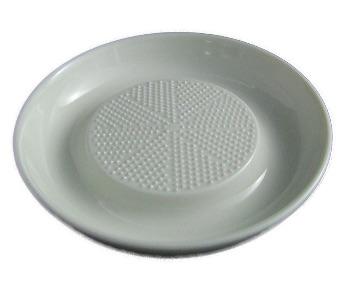 Ceramic Grater for Wasabi, Ginger, Horseradish, Garlic and Turmeric
High quality, ceramic grater - 105mm diameter. These pure, naturally non-reactive ceramic Japanese graters are designed for grating fresh horseradish, ginger, wasabi, garlic, turmeric, or anything else you need to grate! Also ideal for table service grating, providing the very freshest medicinal pizzaz to a wealth of different dishes. The grater lip also stores the precious herbal juices created during the grating process, so nothing is lost. They will not rust or deteriorate like metal graters. The ceramic will not impair the taste or smell of food. Simple, easy to use and clean. With non-slip silicone base.
Non-slip silicone base.
Made from non rusting ceramic.
Ceramic will not absorb the taste of the food.
Ideal for table service grating.
Delivery Information
All orders are carefully shipped from sunny Brighton, in East Sussex, on the Southern coast of England, UK.
All UK orders only £1.95 delivery
When you have made your purchase our team will endeavour to dispatch your goods as quickly as possible. In most cases, we aim to dispatch your order within 1-2 working days of receiving it. The delivery providers we use are Royal Mail, Hermes and DHL, chosen based on your exact address, parcel size and weight. It is within our discretion to select the best service for your parcel and sometimes we use other couriers if need be. Postage UK-wide is capped at the low price of £1.95, regardless of order size.
For all EU and (and now) USA orders, regardless of size postage is set to £14.99. We ship all across Europe with a range of different couriers. We ship all across USA with USPS.
Outside of the UK, EU and USA? No problem!
Additionally, we ship worldwide. Every international order is weighed and priced individually and we only charge our customers what it costs us to send, nothing more. We use a wide range of couriers for worldwide delivery, but prioritise Royal Mail, DHL, Parcelforce or DPD.

Important please note: When placing an order to be delivered outside of the UK/EU/USA, we will be in touch after you complete your order to accurately calculate your delivery costs. Delivery costs will need to be paid in full before your order can be dispatched.