Body Biotics symbiotic 8 strain SBO friendly bacteria by Kiki Health (120 Capsules) probiotic supplement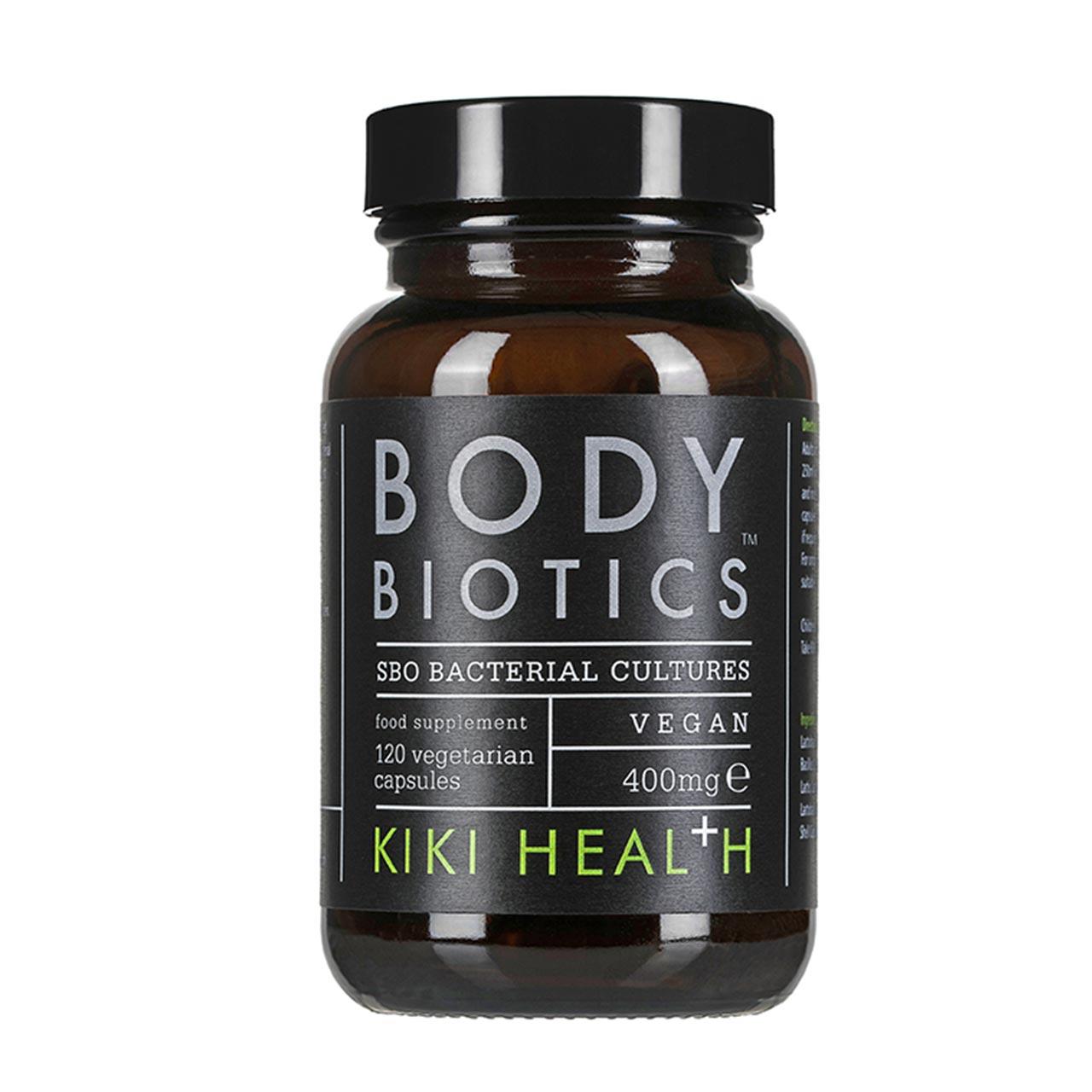 Body Biotics symbiotic 8 strain SBO friendly bacteria by Kiki Health (120 Capsules) probiotic supplement
Live and thriving SBO's (soil-based organisms) probiotic supplement.
KIKI's Body Biotics are a symbiotic blend of 8 highly effective friendly bacteria super-strains, naturally found in healthy soil, to support digestion and healthy immune function and response. GMO-free, toxin-free, chemical-free, nutrient-rich host medium comprised of fulvic and humic minerals.
120 Capsules in Glass jar.
See below for more information about this product
More Information
Body Biotics™ mimic nature so closely as to provide the full benefits of true bacterial cultures.
GMO-free, toxin-free, chemical-free, nutrient-rich host medium.
They are naturally dehydrated (not freeze-dried), rendered dormant as in nature, and waiting to be ingested with an aqueous solution so they can, once again, thrive and proliferate.
Once thriving, they provide the same bio-identical health benefits we used to enjoy before the introduction of harsh chemicals into our farming world in the mid-1950s.
Body Biotics™ are dormant, alive and thriving in their own natural Prebiotics ancestral food source. They DO NOT have a finite number. When activated with water or juice, these "alive and thriving" organisms, trained in nature to withstand the harshest of environments, awaken and begin immediately to multiply.
Therefore, listing a CFU amount on the Body Biotics™ label would be inaccurate and misleading. Each individual will experience a multiplication of the number of organisms in one capsule of Body Biotics.
Ingredients: 
Bacillus Subtilis, Bacillus Licheniformis, Lactobacillus Acidophilus, Lactobacillus Casei, Lactobacillus Plantarum, Lactobacillus Rhamnosus, Lactococcus Lactis, Bifidobacterium Bifidum.
Shell Capsule: Hypromellose
Body Biotics contains NO salt, sugar, yeast, artificial colour, preservatives, chemical solvents, artificial additives or fillers of any kind.
Suitable for vegetarians and vegans. Naturally free from gluten and wheat.
No artificial colours, preservatives, sweeteners or fillers.
Directions:
Adult intake:
Week 1: Take one capsule a day, 30 minutes before food with juice or pure water. (1 per day)
Week 2: Take one capsule twice a day (2 per day)
Week 3: Take one capsule three times a day (3 per day)
If required increase by one capsule per week up to a maximum of six capsules per day in week six.
Maintain six capsules per day for 6 months or longer, and then reduce to an average of 2 – 3 capsules per day.
Caution: Do not take capsules with hot beverages. Not recommended for pregnant or lactating mothers.
Storage:
Store in a cool dry place away from direct sunlight. Refrigeration is not required.
Delivery Information
All orders are carefully shipped from sunny Brighton, in East Sussex, on the Southern coast of England, UK.
All UK orders only £1.95 delivery
When you have made your purchase our team will endeavour to dispatch your goods as quickly as possible. In most cases, we aim to dispatch your order within 1-2 working days of receiving it. The delivery providers we use are Royal Mail, Hermes and DHL, chosen based on your exact address, parcel size and weight. It is within our discretion to select the best service for your parcel and sometimes we use other couriers if need be. Postage UK-wide is capped at the low price of £1.95, regardless of order size.
For all EU and (and now) USA orders, regardless of size postage is set to £14.99. We ship all across Europe with a range of different couriers. We ship all across USA with USPS.
Outside of the UK, EU and USA? No problem!
Additionally, we ship worldwide. Every international order is weighed and priced individually and we only charge our customers what it costs us to send, nothing more. We use a wide range of couriers for worldwide delivery, but prioritise Royal Mail, DHL, Parcelforce or DPD.

Important please note: When placing an order to be delivered outside of the UK/EU/USA, we will be in touch after you complete your order to accurately calculate your delivery costs. Delivery costs will need to be paid in full before your order can be dispatched.