Body Biotics Probiotic and SBO Gummies by Kiki Health – 60 Gummies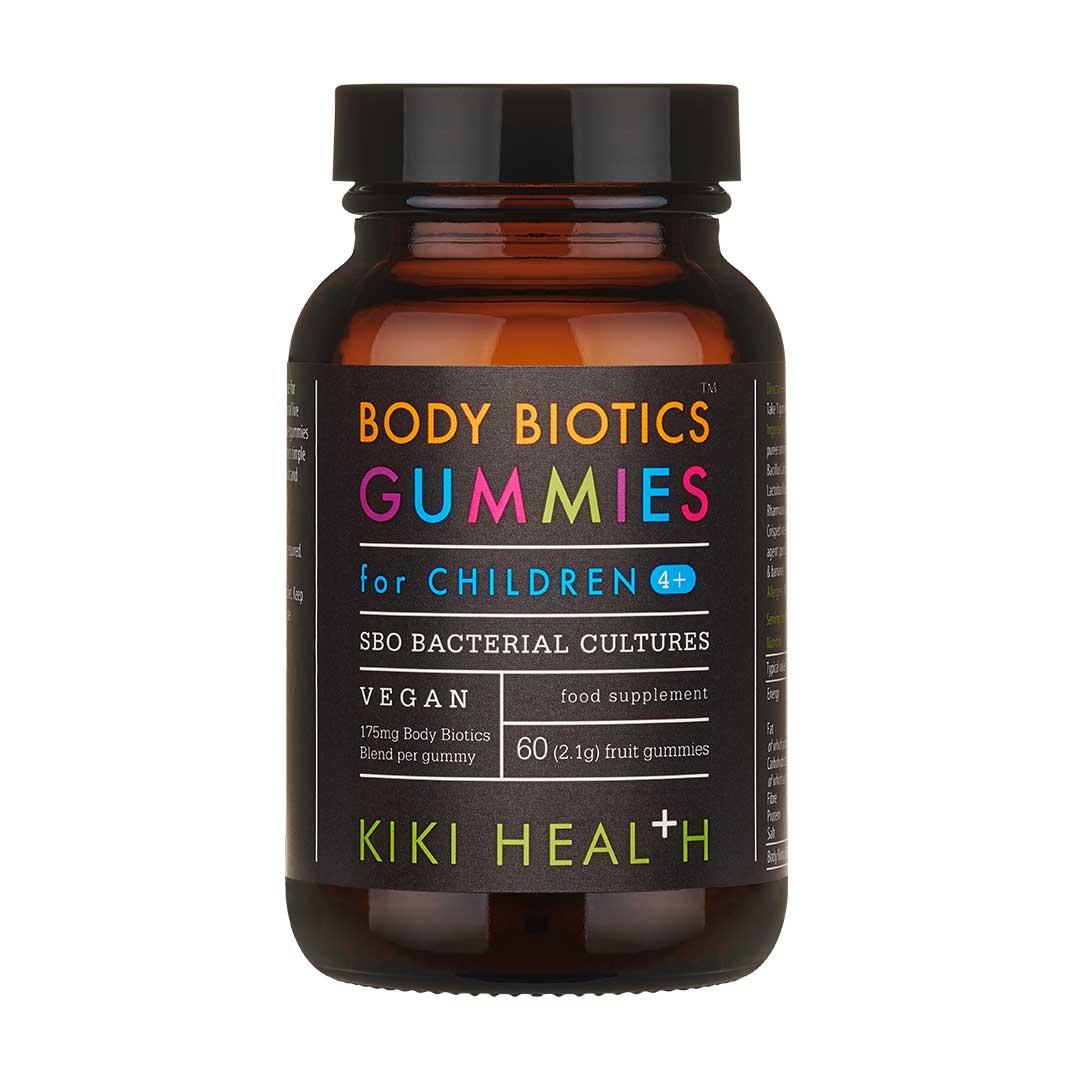 Body Biotics Probiotic and SBO Gummies by Kiki Health – 60 Gummies
Helps restore a healthy balance of friendly bacteria to the GI tract
60 Gummies in glass jar. Contains 175mg of our Body Biotic Blend (SBO Soil-based organisms)
May support digestive and intestinal health
Natural, delicious fruit flavour
Dairy and gluten-free
Suitable for vegetarians and vegans
Made in the UK
Ingredients: 
Apple, Strawberry, Banana, Aronia, (juice & purée concentrate), Body Biotics blend: (Bacillus Subtilis,  Bacillus Licheniformis, Lactobacillus Acidophilus, Lactobacillus Casei, Lactobacillus Plantarum, Lactobacillus Rhamnosus, Lactococcus Lactis, Bifidobacterium Bifidum), Crisped rice, Rice flour, Rice starch, Sunflower oil, Gelling agent (pectin), Citrus fibre, Natural flavouring (strawberry & banana).
See below for more information about this product
More Information
BODY BIOTICS SBO Blend
Body Biotics Gummies are a whole-food probiotic formula created specifically to meet the unique needs of children from 4 years and up.
We combine our unique Body Biotics™with real fruit to create a delicious and nutritious supplement to help repopulate the gut with friendly bacteria for overall wellbeing.
Body Biotics Gummies are a microbiome blend of 8 bacterial cultures. They contain a combination of SBOs (soil-based organisms) and natural live cultures – including a high concentration of lacto and bifido strains.
MADE WITH REAL FRUIT
This microbiome food supplement is made using real non-GMO fruit ingredients grown without the use of toxic pesticides. They're free from added sugars, binders, fillers, carriers and sweeteners.
DIRECTIONS
Children from 4 years and up, and adults:
Take 1 gummy daily.
Delivery Information
All orders are carefully shipped from sunny Brighton, in East Sussex, on the Southern coast of England, UK.
All UK orders only £1.95 delivery
When you have made your purchase our team will endeavour to dispatch your goods as quickly as possible. In most cases, we aim to dispatch your order within 1-2 working days of receiving it. The delivery providers we use are Royal Mail, Hermes and DHL, chosen based on your exact address, parcel size and weight. It is within our discretion to select the best service for your parcel and sometimes we use other couriers if need be. Postage UK-wide is capped at the low price of £1.95, regardless of order size.
For all EU and USA orders, regardless of order size, postage is set to £14.99. We ship all across Europe with a range of different couriers. We ship all across USA with USPS and Fedex.

For Canada, regardless of order size, our shipping rate is only £19.99
Outside of the UK, EU and USA and Canada? No problem!
Additionally, we ship worldwide. Every international order is weighed and priced individually and we only charge our customers what it costs us to send, nothing more. We use a wide range of couriers for worldwide delivery, but prioritise Royal Mail, DHL, Parcelforce or DPD. Please note, for certain Middle Eastern countries, we can only deliver to P.O box addresses.

Important please note: When placing an order to be delivered outside of the UK/EU/USA/CANADA, we will be in touch after you complete your order to accurately calculate your delivery costs. Delivery costs will need to be paid in full before your order can be dispatched.